Apple, Inc. (AAPL) gets plenty of press and so I debated even bringing it up. However, they reported earnings after the bell and beat expectations. Despite weak iPad sales, the huge iPhone 6 and Mac sales have investors excited. Last I'd heard it was up over 1% in after hours trading. I decided I wanted a look at it to see where it stands technically.
The daily chart looks fairly good. Let's look at the left side of the chart. I noticed that the last time Apple began a long rally, three technical indicators made important moves. The DecisionPoint Price Momentum Oscillator (PMO) had a positive crossover its 10-EMA in oversold territory which generated a PMO BUY signal. The intermediate-term DecisionPoint Trend Model had a 20-EMA positive crossover the 50-EMA which generated a Trend Model BUY signal. Finally, the SCTR value spiked higher almost overnight.
On the right side of the chart, the PMO has turned up just above zero which is bullish, but we would like to see a positive crossover like we did in April. The Trend Model is on the same BUY signal that was generated in April and the 20/50-EMAs which had previously been declining, turned up which is bullish. The SCTR value has remained above 90 for over two months which indicates internal strength. Price was stopped at overhead resistance, but that could be penetrated tomorrow if after hours trading is any indication.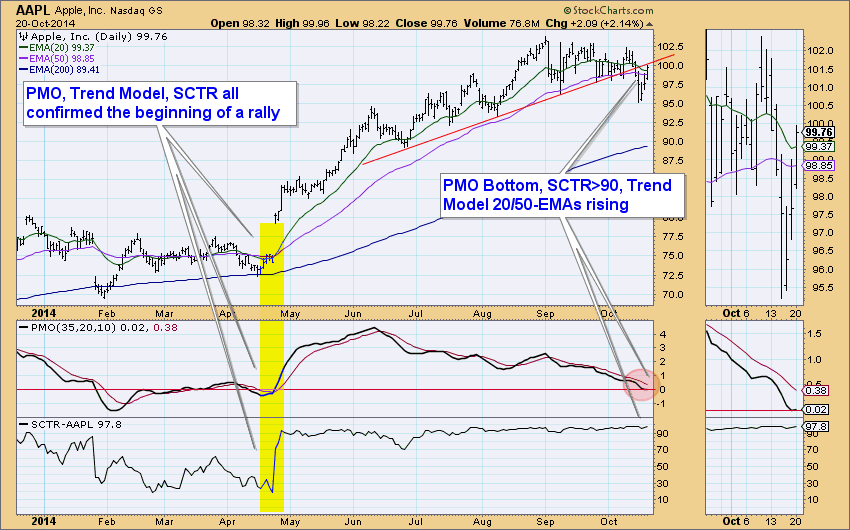 The weekly chart is not quite as bullish. The weekly PMO just had a negative crossover its EMA which is intermediate-term bearish. Price did hit an all-time high last month but it has been slowly declining since. In the thumbnail price has not broken out above the declining tops trend line.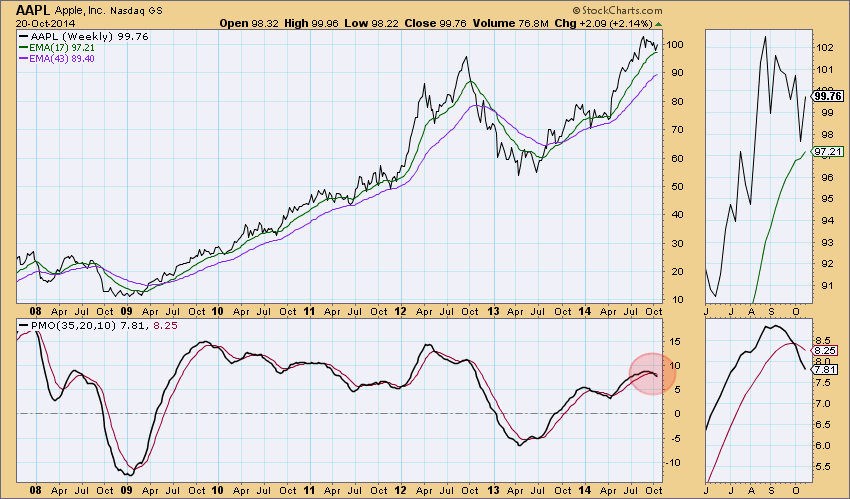 On the other hand, a visit to the monthly chart is looking somewhat bullish. The monthly PMO just had a positive crossover its EMA and Apple is trading above both the 6- and 10-month EMAs. The PMO is flattening which could be a caution flag, but right now the chart appears bullish in the long term.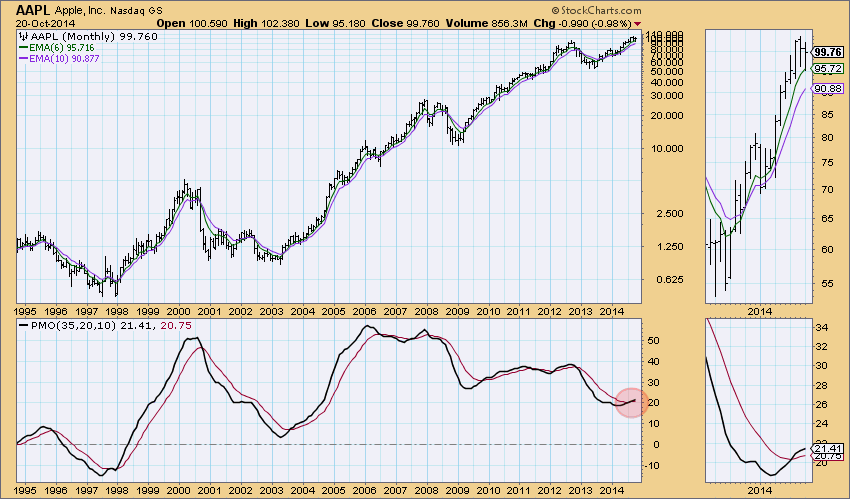 Conclusion: The PMO has not yet confirmed an upcoming rally, but it is moving in that direction. Price hasn't broken above overhead resistance but likely will. Shorter term, AAPL looks bullish, intermediate term is somewhat bearish and very long-term is mildly bullish.
Happy Charting!
Erin