As of 8/21/2014 Gold has been on a DecisionPoint Intermediate-term Trend Model SELL signal. Reason being that the 20-EMA crossed below the 50-EMA on 8/21/14 while the 50-EMA was below the 200-EMA. Because the 50-EMA moved below the 200-EMA, the DecisionPoint Long-Term Trend Model moved to a SELL signal on 2/15/2013. So both our intermediate-term and long-term posture are bearish. Despite this, it appears that Gold could be finally making a move. When the Price Momentum Oscillator (PMO) had a positive crossover last month, I was very skeptical that gold prices would break out of the declining trend that began roughly around July of this year. Apparently the PMO BUY signal that was generated turned out to be a good one.
Gold broke out above declining tops line resistance with its almost 2.4% gain today. Since the dollar was rising most of the day and was only down a half of a percent, gold's move was mainly due to more gold buyers. The PMO has nearly reached zero and has surpassed the last PMO top which is very bullish. A big move like this could mean a snap back toward the point of the breakout before we see higher prices.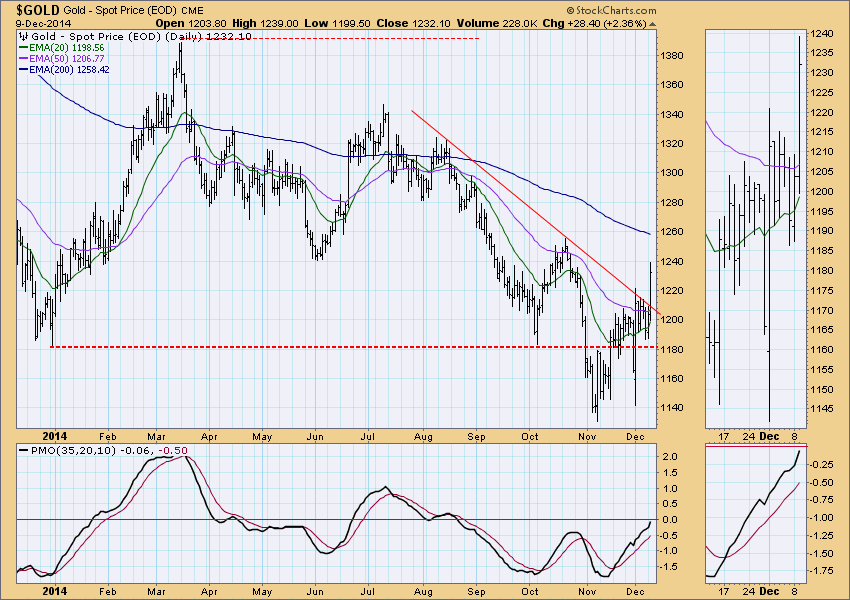 The Central Fund of Canada (CEF) and Central Gold Trust (GTU) stocks still are selling at very high discount rates, but it may have peaked last week. Note also that the weekly PMO for gold has bottomed and is making a move toward a positive crossover. A positive PMO crossover would generate a weekly PMO BUY signal. To read more about gold discounts and premiums, click here.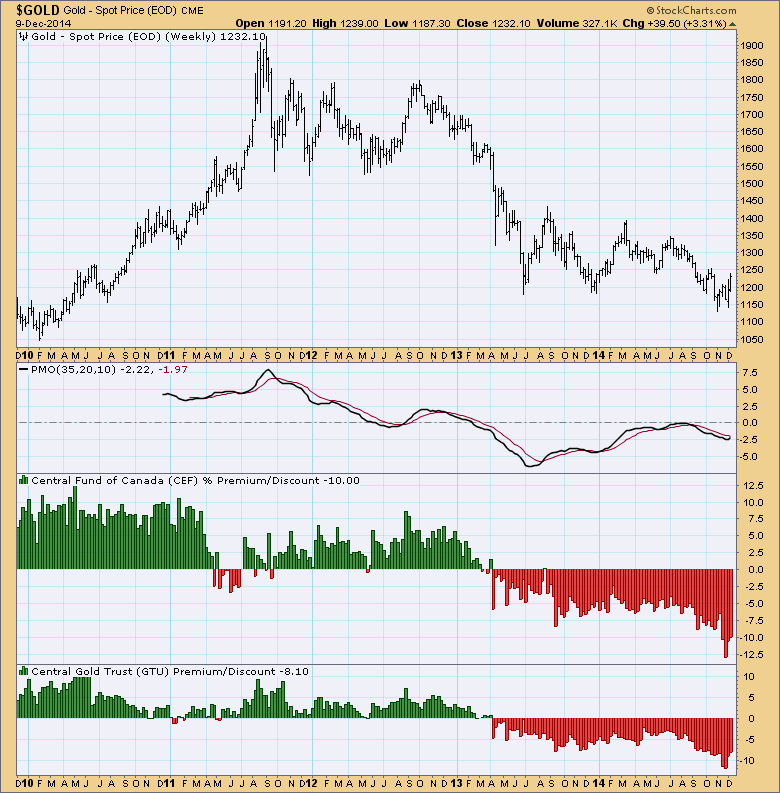 Conclusion: It is unclear how long this rally in gold will last, but our indicators are confirming positive momentum. The Trend Model will not move from its intermediate- and long-term SELL signals until the 20-EMA has a positive crossover the 50-EMA. That would generate an intermediate-term Trend Model BUY signal. The long-term Trend Model will not change from a SELL signal until the 50-EMA crosses above the 200-EMA. That will require an extended gold rally in order to get those long-term EMAs to cross over.

Happy Charting!
Erin