After months of sagging prices, gold ($GOLD) is finally coming back to life. From the July low it has rallied +7.5%. After a promising November/March double bottom, the subsequent rally failed, support was broken, and new lows were made in July. In view of the current rally, that selloff is beginning to look like a final shakeout. The PMO bottomed in oversold territory, and is on a crossover BUY signal. Price is now above the 20EMA and 50EMA, which will cause them to converge and possibly cross, generating a new Trend Model BUY signal.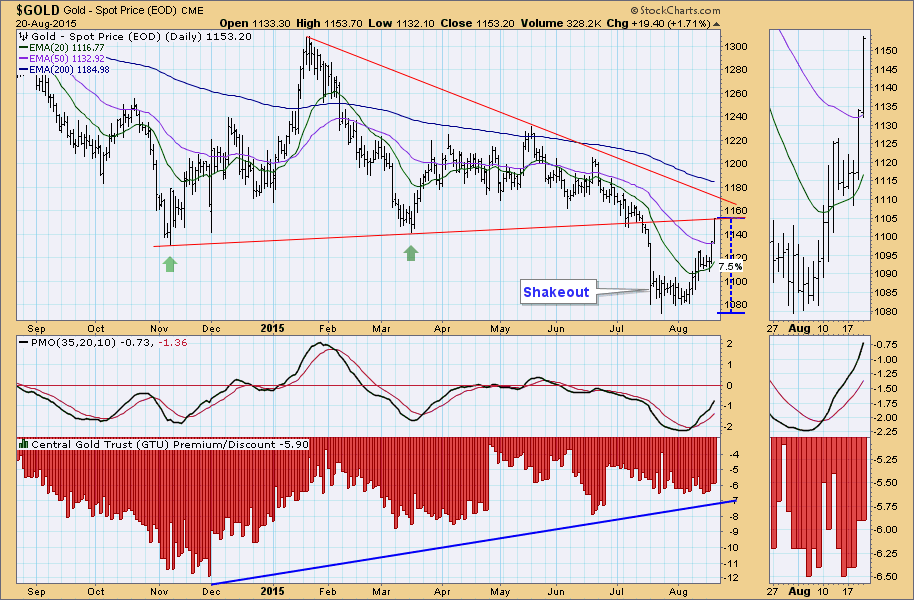 ---
Another promising feature of the chart is the Central Gold Trust (GTU) Premium/Discount readings over the last nine months. GTU is a closed-end mutual fund that trades like a stock. Unlike an open-end mutual fund, the price of GTU is driven by the bid and ask, not net asset value (NAV). As a result, GTU can trade at a premium or discount to NAV, and by tracking that premium/discount we get an excellent indication of gold sentiment. It is encouraging to note that, even through the period when gold was making new lows, the discount has been contracting, indicating that investors are less anxious to unload their shares.
Looking at a three-year chart, we can see that gold has entered a zone of resistance that stretches back over two years. It is also approaching a declining tops line.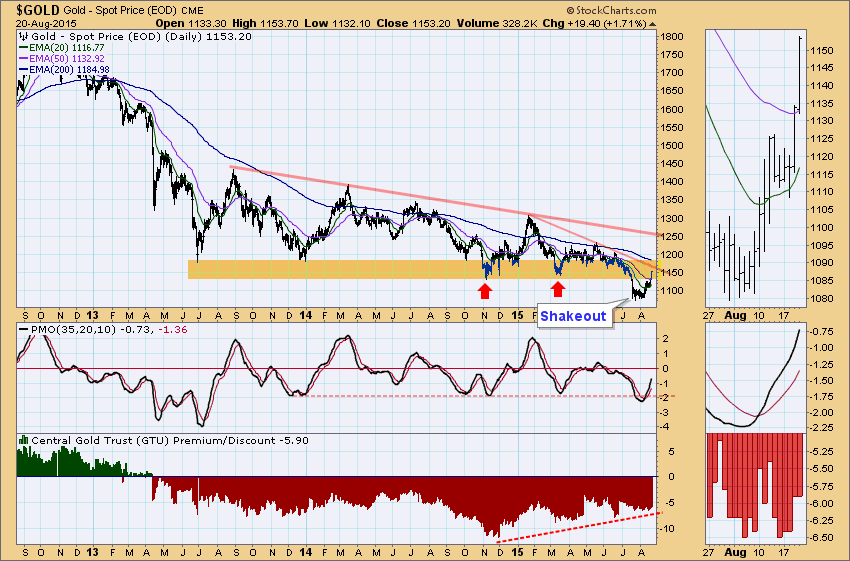 The weekly chart shows us that gold has been disappointing gold bulls for about four years, since the all-time high in 2011. But the weekly PMO has turned up, and the contracting discount looks even better in this longer-term context.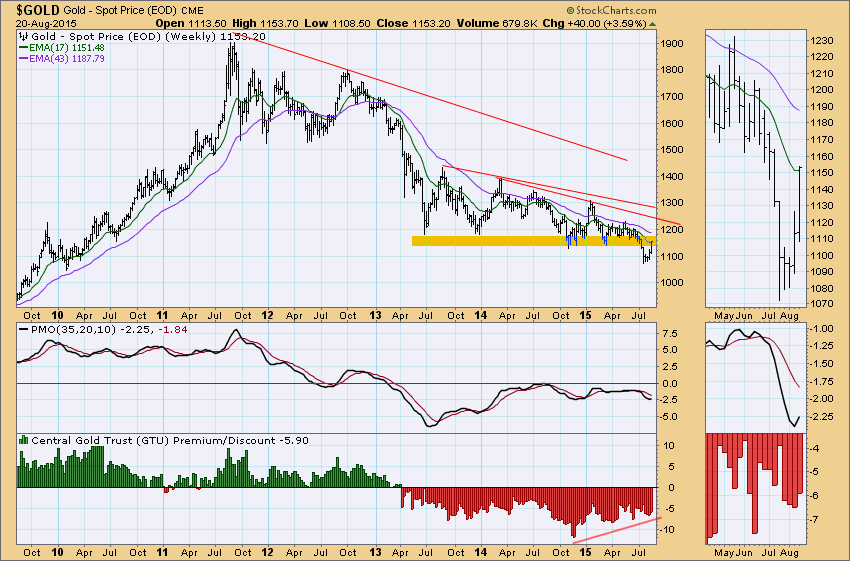 Conclusion: So here we face yet another rally offering hope to gold bulls after a four-year slide. Have we seen the final bottom and the beginning a new gold bull market? Well, the technicals are improving, and I especially like how sentiment is improving. There is a lot of overhead resistance to plow through, but mostly I'd like to see sentiment continue to improve. If it flips to green (GTU selling at a premium to NAV), it would be an excellent sign that the gold bear market is over.
---
Subscribe to Carl's free blog and receive email whenever a new article is posted. See subscription links at the upper right corner of this page.
---
Technical analysis is a windsock, not a crystal ball.
---