On Wednesday of last week $GOLD generated a DecisionPoint Trend Model BUY signal when the 20EMA crossed up through the 50EMA. As we frequently stress, these signals are intended to be information flags, not action flags. They should prompt investigation, not blind response.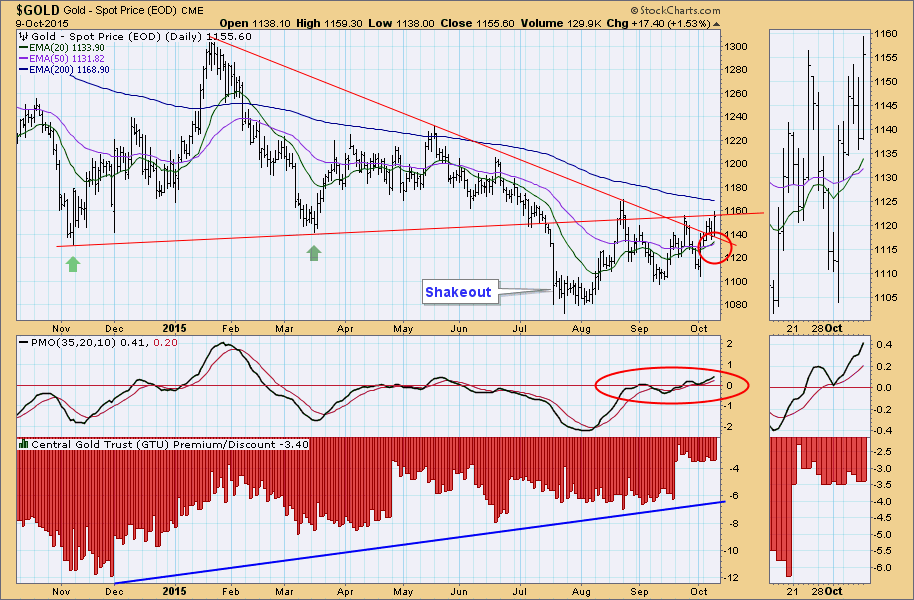 ---
Looking at the one-year chart above we can see that $GOLD has been trending slowly higher from the August shakeout low. This caused the moving averages to converge and then make a bullish crossover. The PMO for the last month has been very sluggish and somewhat flat, but it is rising and nominally bullish. The bottom panel shows that the closed-end fund, Central Gold Trust (GTU), which owns physical gold, is selling at one of the lowest discounts for a year. Also, the percentage of discount has been decreasing for most of the year. This shows that holders of GTU are less bearish on gold. (Note: Closed-end funds trade like stocks, and they can sell at a premium or discount to their net asset value.) While price has started to trend upward, for most of the year it has been trending sideways and downward. This has caused the 20EMA to zigzag and cross the 50EMA five times, generating three BUY signals and two SELL signals. This kind of activity is not helpful, and is a perfect example of why we need to look at the chart before acting on a signal.
The weekly chart below shows the PMO is rising and above its signal line, providing some bullish evidence on an otherwise bearish chart.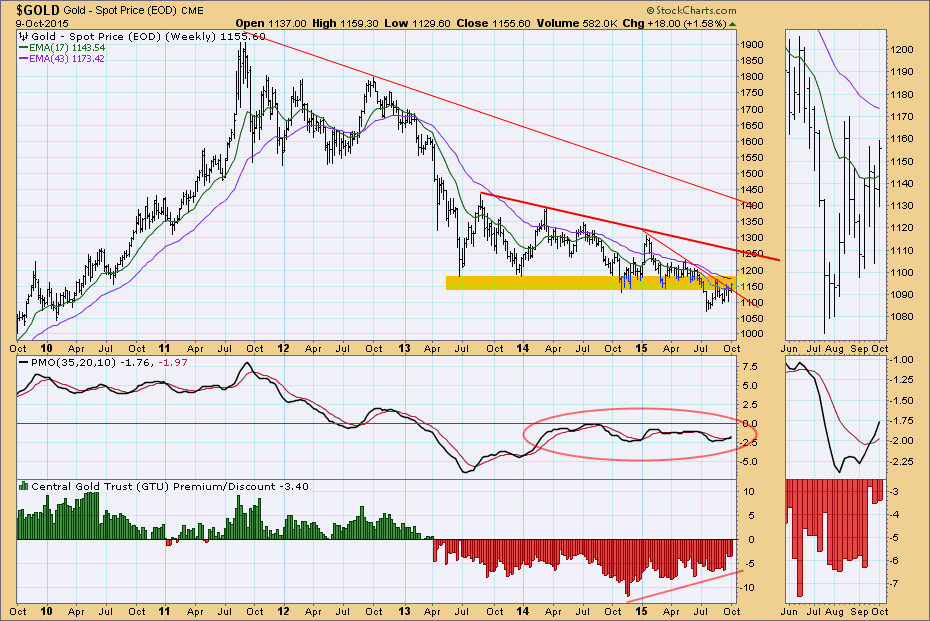 The monthly chart shows the parabolic rise from the 2001 low into the 2011 top. The collapse from the parabolic has not been as rapid as we normally expect, but it has nevertheless chopped -45% off the 2011 high. The most positive thing I can say about this chart is that the PMO is decelerating and could possibly bottom at the end of this month.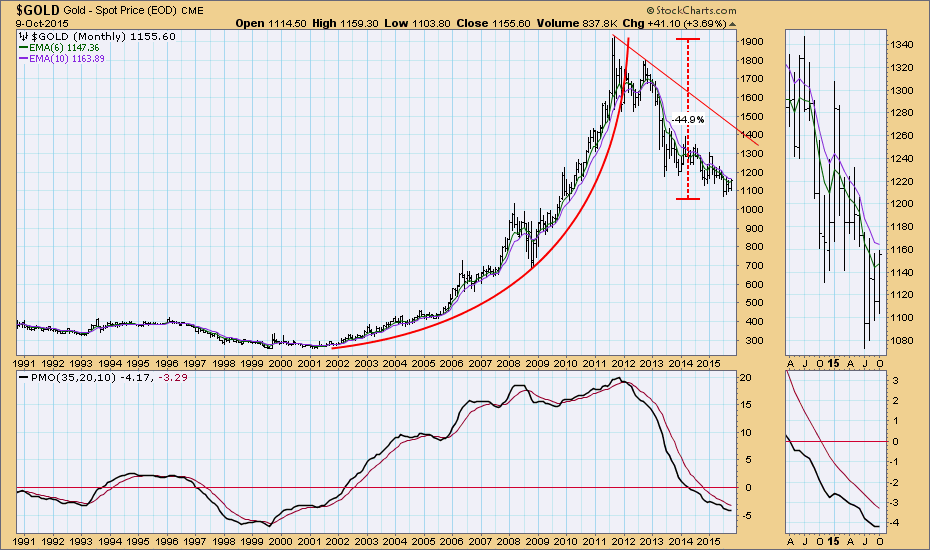 CONCLUSION: The overall picture for $GOLD is bearish but showing improvement. The current BUY signal may offer some opportunities on the long side, and may even prove to be a long-term winner; however, my impression is that the conditions underlying this new BUY signal are far from robust. Also, $GOLD is in a bear market (the 50EMA is below the 200EMA), so odds are against a strong up move. Long positions should be stamped "Handle With Care."
---
Technical analysis is a windsock, not a crystal ball.