On Friday $GOLD made a strong up move, seemingly ending a decline that has lasted almost two months. Price broke back above a line of resistance drawn from the July low, a line that will now serve as support.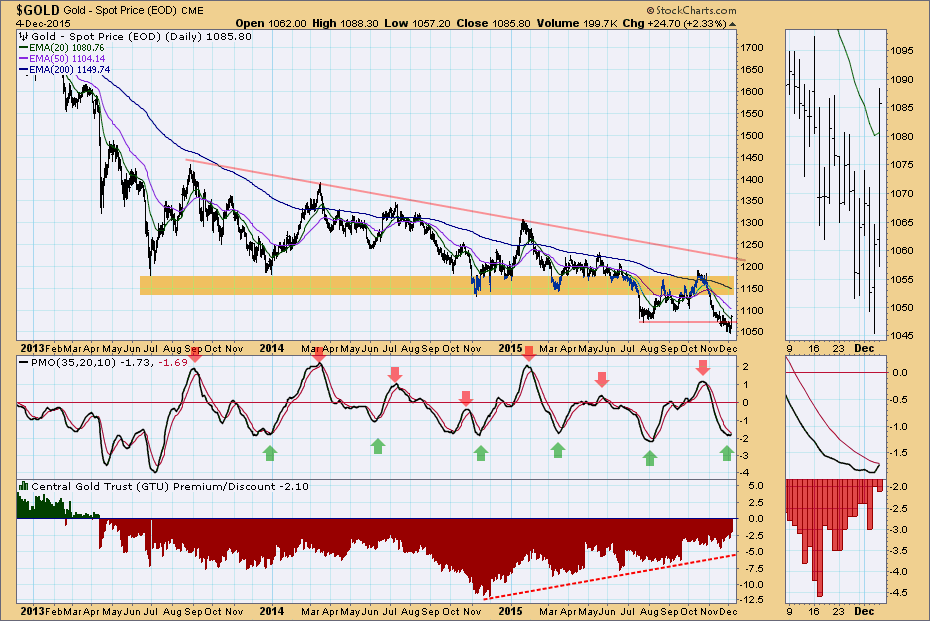 ---
The PMO has been helpful in identifying price tops and bottoms for over two years, and it is currently bottoming in oversold territory. Note the relatively even spacing (about four months) between the recent PMO bottoms. This gives me somewhat high confidence that we are seeing the beginning of a rally that should last about two months. However, we should not become too complacent with the apparent four-month cycle regularity, because the cycle could disappear. For now it looks pretty reliable.
Is it possible that a medium-term rally could turn into a long-term rally? One promising feature of this chart is that the Central Gold Trust (GTU) discount* continues to shrink, showing that investors are less and less bearish on gold. During the rally that I am expecting, GTU could start selling at a premium for the first time in nearly three years. That would be a very bullish sign because it would demonstrate a sense of urgency to own gold.
Otherwise, $GOLD is in a gradual down trend and the 50EMA is below the 200EMA, which we define as a long-term bear market. In this context, we shouldn't hope for more than the expected two-month rally at this point.
CONCLUSION: $GOLD seems to have put in a cycle low, and an oversold PMO bottom associated with a price breakout and improving sentiment make me think that a medium-term rally is starting.
*Central Gold Trust (GTU) is a closed-end fund that owns physical gold. The fund trades like a stock and can sell at a premium or discount to the net asset value of the gold it owns.
---
Technical analysis is a windsock, not a crystal ball.
About the author:
Carl Swenlin
is a veteran technical analyst who has been actively engaged in market analysis since 1981. A pioneer in the creation of online technical resources, he was president and founder of DecisionPoint.com, one of the premier market timing and technical analysis websites on the web. DecisionPoint specializes in stock market indicators and charting. Since DecisionPoint merged with StockCharts.com in 2013, Carl has served a consulting technical analyst and blog contributor.
Learn More