The Brexit vote was a solid win for "Leave," even though the margin wasn't huge. The resulting market correction was not really so bad for U.S. markets; although, for global markets it was another story. Below we can see the sucker rally early in the week (circled), fed by wishful thinking and sketchy polls. A lot of fear was built up, with emphasis on the horrible consequences of a Leave vote. This was meant to steer people to the Stay side, but in the end it probably exacerbated the selloff.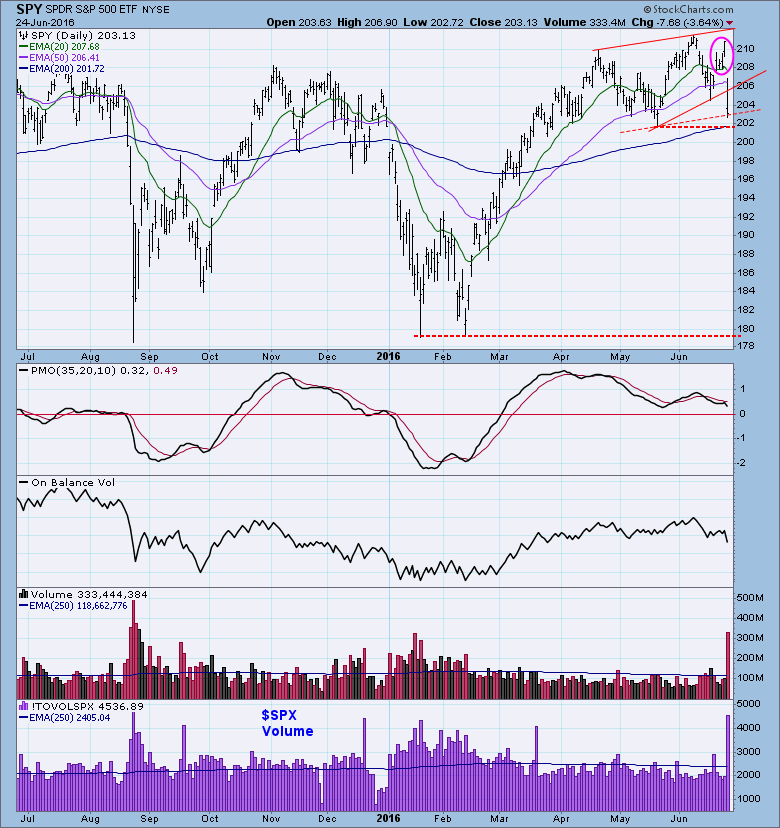 ---
While the selling was quite dramatic on Friday, when we put it in context on a chart, there was not a lot of technical damage done. The market was already in decline the week before, and, if we ignore the sucker rally, Friday's action simply was a continuation of the decline. Price also found support on the imaginary bottom of a rising trend channel. I call it "imaginary" because the line is drawn parallel with the rising tops line, not drawn across rising bottoms, the proper way to define a trend. Nevertheless, a bounce on Monday will make it legal. The point is that, looking at this chart, there is simply no impression of a major disaster having happened. And price is only -4% down from all-time highs!
The Dow Industrials are only down -6% from all-time highs, and still near the top of the longer-term trading range.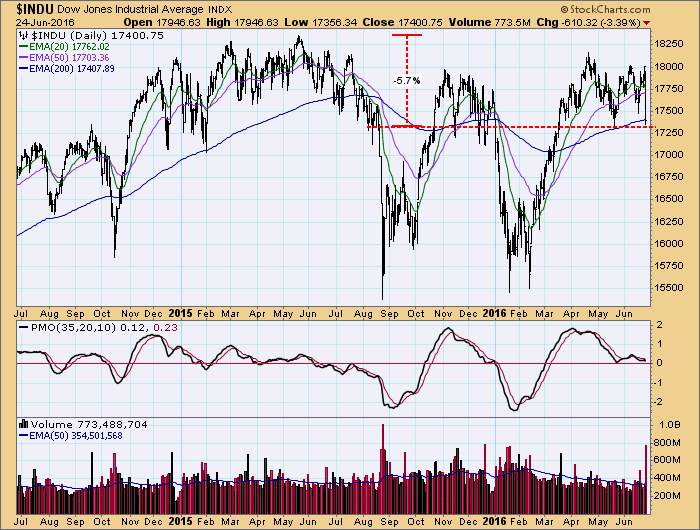 Unlike the Dow and S&P 500, the Nasdaq Composite is technically in a bear market. There is a clear declining trend from the July 2015 top, albeit shallow; however, more relevant to this discussion is the more recent double top trading range, which still persists in spite of Friday's selloff.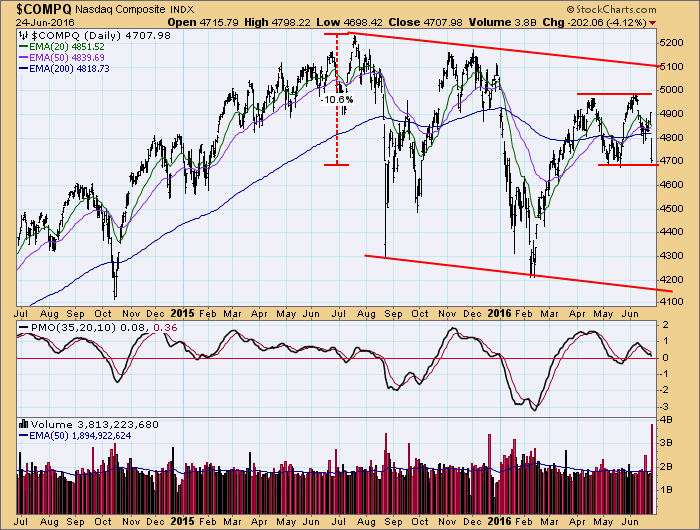 Finally, after having personally reviewed a lot of stock charts, my strong impression is that, while the selloff on Friday was impressive, in the majority of cases individual stock trends were not altered.
CONCLUSION: In spite of Friday's downdraft, U.S. markets were not taken off the track they were on before the Brexit vote. Whether or not this will change for the worse with more selling next week remains to be seen, but my impression during the day was that the bottom was not falling out. It was more like an attitude adjustment initiated by new information. Technically, the market is very oversold, and a bounce is likely, but it may take a while for the markets to figure out how to proceed.
---
Technical analysis is a windsock, not a crystal ball.