Yesterday it appeared that TLT had formed a reverse island formation. However, with the Price Momentum Oscillator (PMO) on a BUY signal, the SCTR with a healthy 75+ reading and an OBV line trending higher, I knew it wasn't a good fit. I suggested it might be a breakaway gap.
---
---
Today TLT gapped up and set a new all-time high, effectively negating the island formation and defining that as a breakaway gap instead. Today's gap could be considered a continuation gap. TLT's next job would be to hold on to the February high support line.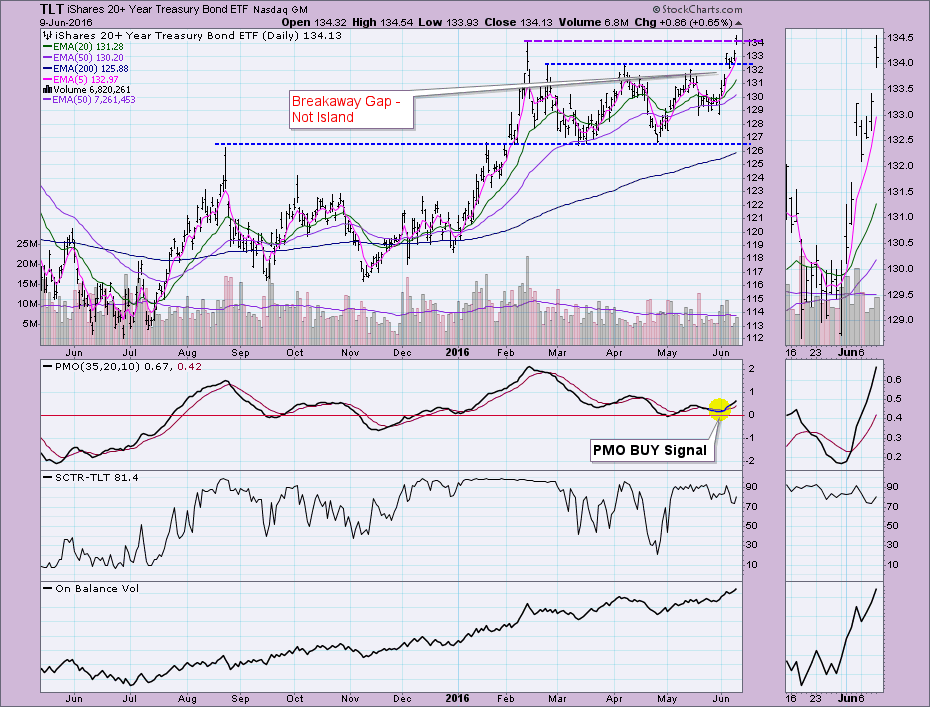 The weekly and monthly charts below are bullish and help build confidence in this breakout rally.
On the weekly chart below, the breakout is clear. You could make a case for a bullish flag formation, but I'm more interested in the breakout rather than a possible formation. The other very bullish feature on this chart is the new PMO bottom above its signal line.

The monthly chart had been forming a bullish ascending triangle formation. The breakout is encouraging.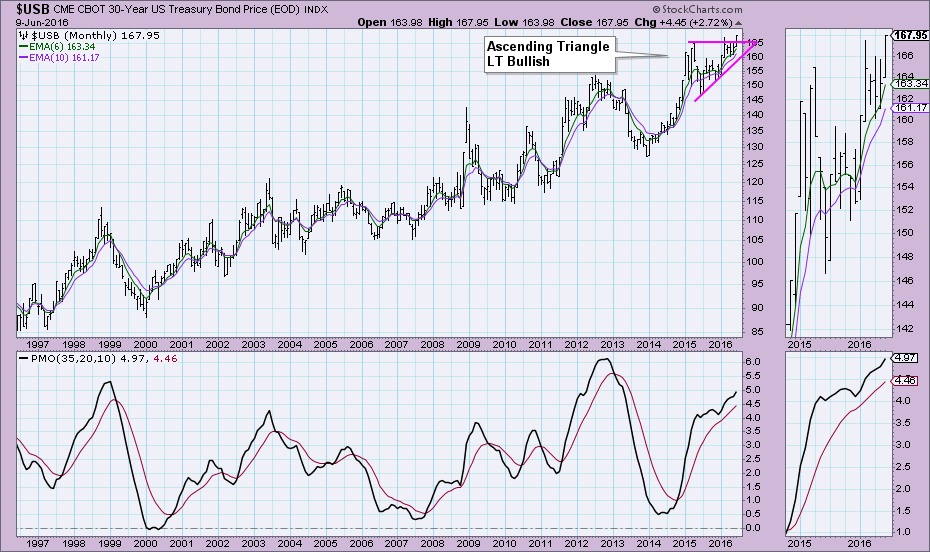 Conclusion: TLT's breakout to new highs is likely riding on a breakaway gap that suggests higher highs. The weekly and monthly charts are bullish as well. IMPORTANT: The weekly chart will not go final until tomorrow and the monthly chart won't be final until June 30th. The weekly chart will not likely change much, but the monthly PMO could be affected by trading the remainder of the month. In both cases, the breakout will still be visible, the question will be whether the close will remain near those all-time highs tomorrow and at the end of the month.
---
Come check out the DecisionPoint Report with Erin Heim on Wednesdays and Fridays at 7:00p EST, a fast-paced 30-minute review of the current markets mid-week and week-end. The archives and registration links are on the Homepage under "What's New".
---
Technical Analysis is a windsock, not a crystal ball.
Happy Charting!
- Erin