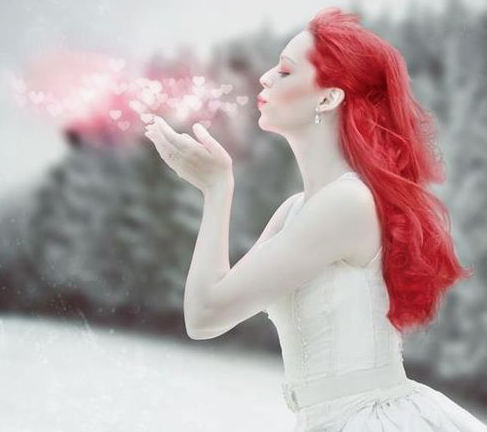 A few months ago, a viewer of MarketWatchers LIVE commented that, when I talk about my Climactic Indicator chart which includes both breadth and the $VIX, it often sounds like "vixen breath".
I promised viewers today that I would write about my thoughts on these climactic indicators, so I decided to look at the volatility indexes and breadth for not only the SPX, but also for NDX ($VXN), OEX ($VXO) and Dow ($VXD). They all tell a similar story.
---
---
While volatility indexes can sometimes mark longer-term lows and highs, I view them as very short-term sentiment indicators. Breadth used in conjunction with volatility helps me to determine initiations and exhaustions of price moves. The key is to look for unusually high readings or spikes in breadth with coordinating penetrations of the Bollinger Bands by the volatility index.
Note the selling exhaustion that occurred right at the last price bottom on the SPY chart below. New lows spiked over a week, culminating in a downside Bollinger Band (BB) penetration of the VIX. We have seen climactic readings on Advances - Declines, but not on New Highs/Lows. I'm watching for an uptick in new highs to arrive in conjunction with an upper band cross on the VIX. I have marked an earlier VIX top below its moving average rather than a break above the BB in December. There is certainly precedent for the VIX to turn down before crossing above the upper BB. While we are in a rollercoaster market, the VIX seems to be calming as it rises slowly on the inverted scale.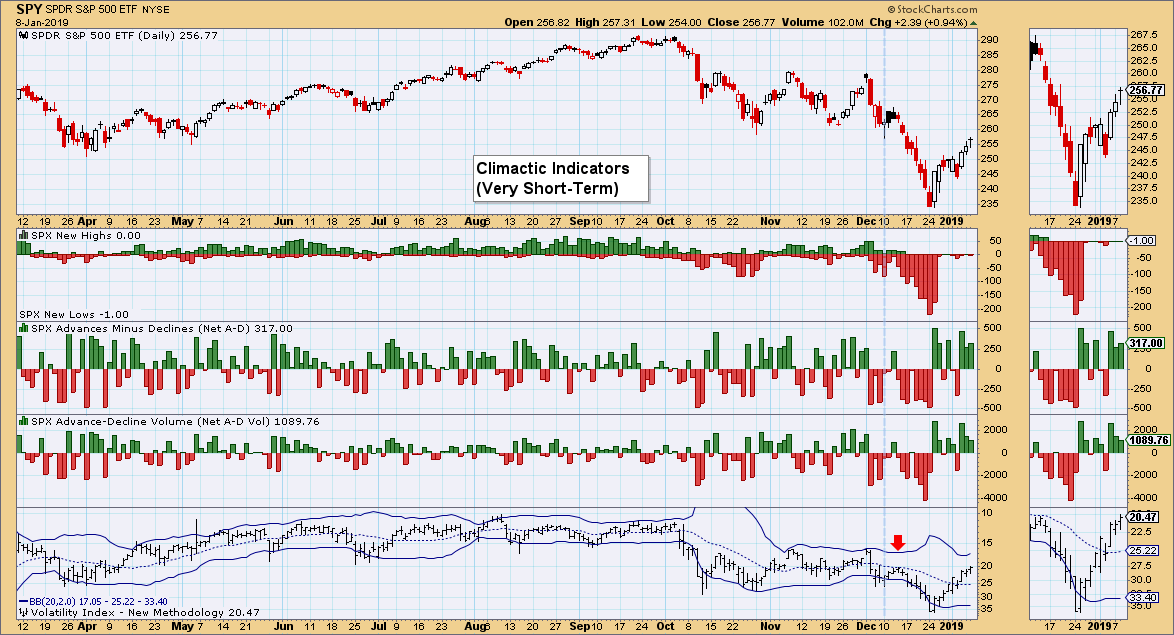 The same charts for the NDX and OEX are very similar - no climactic new highs/lows and a rising VIX that is nearing the top BB. Advances - Declines can be considered 'climactic'.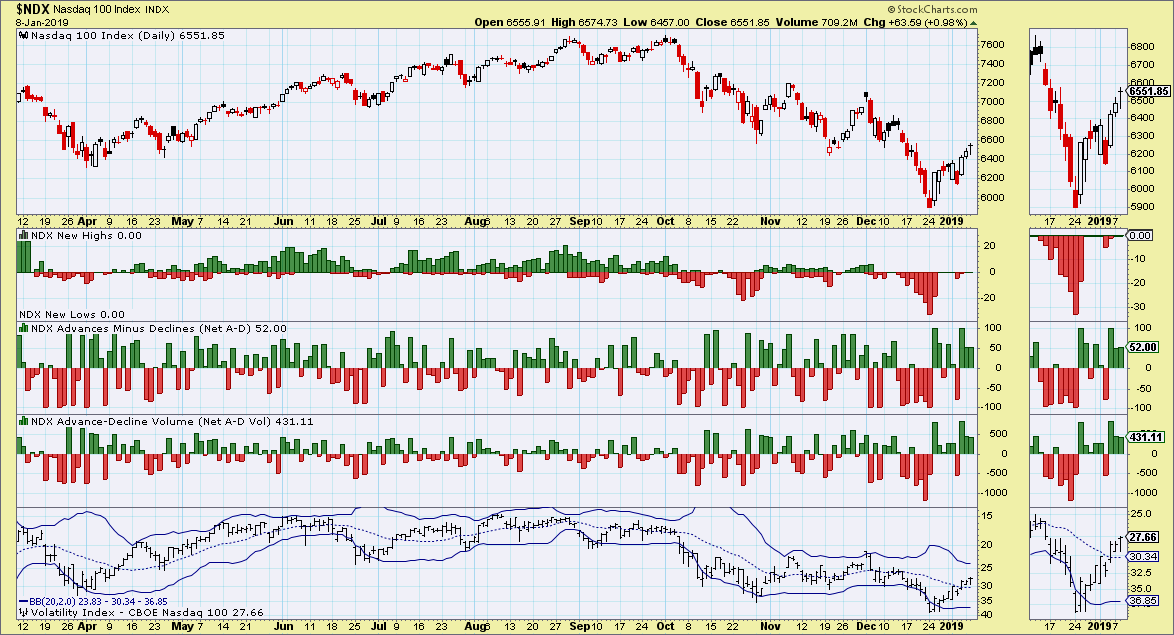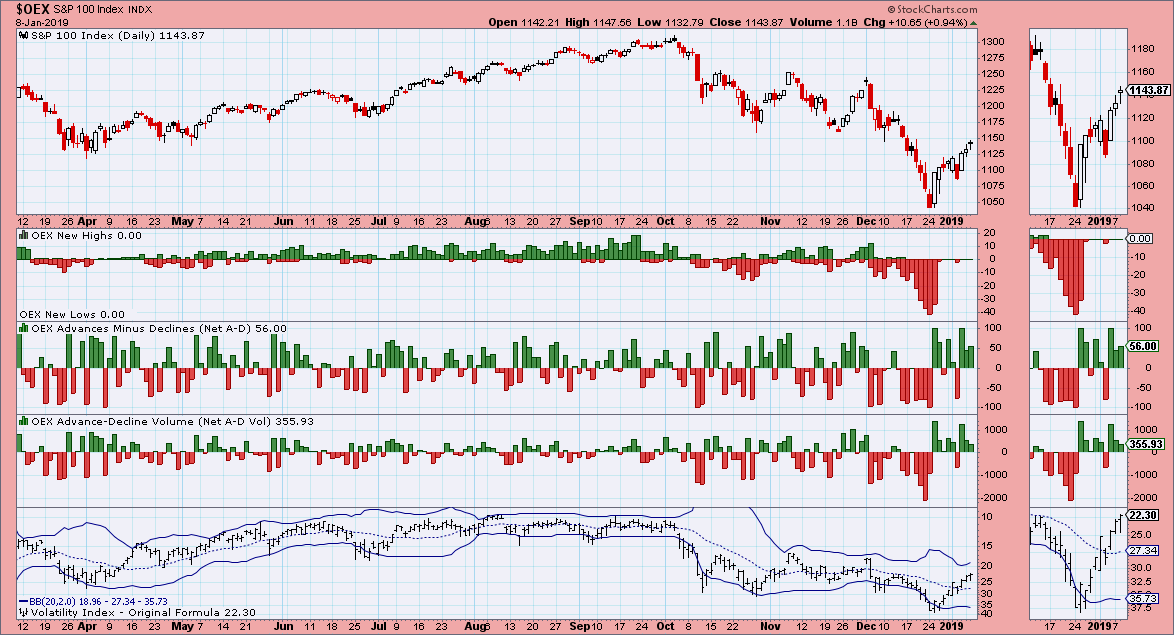 The Dow also is similar. I just want to note that I used a solid line instead of OHLC bars on the $VXD to clean up the chart and make the point that we don't have an upside breakout on the $VXD. With OHLC bars, there are continual crosses above/below BBs because there are fewer stocks in the index.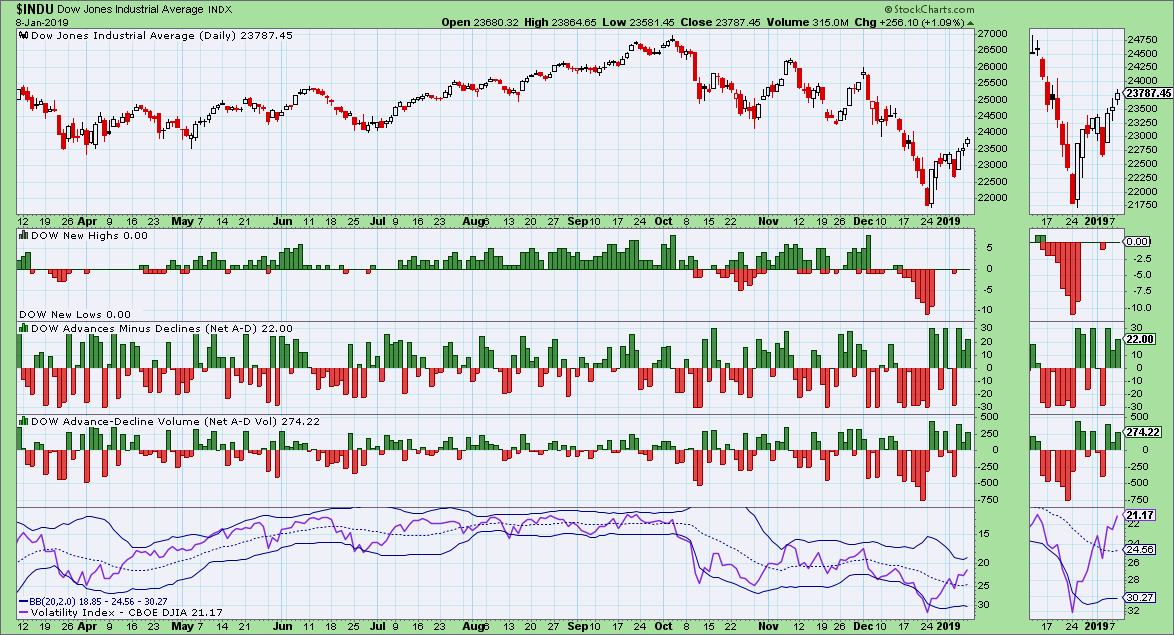 As a small bonus, here is our short-term indicator chart of the Swenlin Trading Oscillators. They are very overbought, but are still rising as with the VIX. However, they are now vulnerable topping.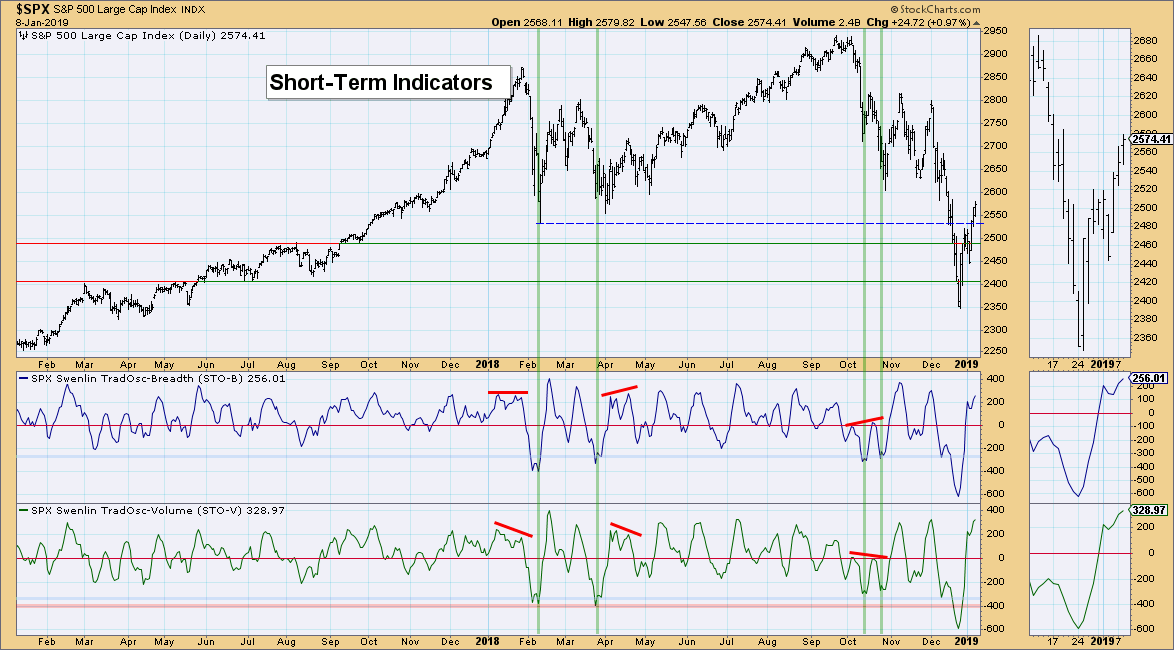 Conclusion: We are likely nearing a buying exhaustion on the large-cap indexes, going by climactic breadth readings and volatility indexes, the latter nearing upside crossovers of their Bollinger Bands on an inverted scale. I'm looking for a top below 2600 on the SPX.
---
*** Don't miss the new DecisionPoint live show on Fridays at 4:30p EST for your live wrap-up of the week. Prior episodes are now available on the StockCharts YouTube channel or in re-runs on StockCharts TV. ***
---
Technical Analysis is a windsock, not a crystal ball.
Happy Charting!
- Erin
---
Helpful DecisionPoint Links:
DecisionPoint Shared ChartList and DecisionPoint Chart Gallery
Price Momentum Oscillator (PMO)
Swenlin Trading Oscillators (STO-B and STO-V)
---
**Don't miss DecisionPoint Commentary! Add your email below to be notified of new updates"**
---