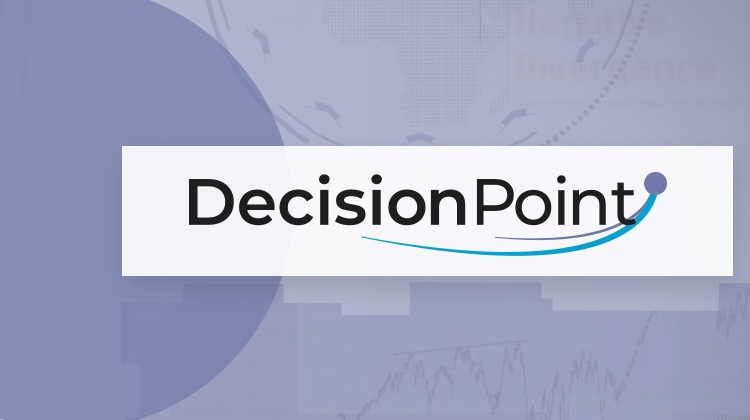 On this episode of DecisionPoint, Carl takes center stage, bringing his "70-50 Chart Pattern Rule" -- experienced-based analysis of determining follow-through on a chart pattern -- to the table. He walks viewers through the mega-cap stocks, the FAANG, as well as Tesla (TSLA). He reviews the status of the sectors while Erin talks about the "Obvious" and "Not-So-Obvious" areas of the market that are benefiting from the war.
This video was originally recorded on March 7, 2022. Click anywhere on the DecisionPoint logo above to view on our dedicated show page, or click this link to watch on YouTube. You can also watch this episode and other past episodes on the StockCharts on demand video service, StockChartsTV.com. Registration is free!
New episodes of DecisionPoint air on Mondays at 7pm ET on StockCharts TV. Archived episodes of the show are available at this link.
Erin Swenlin also hosted the Monday, March 7 edition of StockCharts TV's Your Daily Five, where she talks about the "State of the Market." We know we are in a declining trend, but she and Carl believe we are in a bear market. While the S&P hasn't reached the 20% down yet, it has happened with the Nasdaq and Nasdaq 100 and the same kind of deterioration is continuing.
Finally, don't miss Erin and Mary Ellen McGonagle in the Thursday, March 3 edition of Chartwise Women, where they kick off Women's History Month with their presentation "Attracting Women to the Investment Table." Bringing their strategies for how to engage, educate and empower, the pair share statistics about the importance of investing and how you can use their "Chartwise Women Approach" to get started. If you're looking for motivation to start investing, this is the show to watch.
About the author:
Carl Swenlin
is a veteran technical analyst who has been actively engaged in market analysis since 1981. A pioneer in the creation of online technical resources, he was president and founder of DecisionPoint.com, one of the premier market timing and technical analysis websites on the web. DecisionPoint specializes in stock market indicators and charting. Since DecisionPoint merged with StockCharts.com in 2013, Carl has served a consulting technical analyst and blog contributor.
Learn More
---
About the author:
Erin Swenlin
is a co-founder of the DecisionPoint.com website along with her father, Carl Swenlin. She launched the DecisionPoint daily blog in 2009 alongside Carl and now serves as a consulting technical analyst and blog contributor at StockCharts.com. Erin is an active Member of the CMT Association. She holds a Master's degree in Information Resource Management from the Air Force Institute of Technology as well as a Bachelor's degree in Mathematics from the University of Southern California.
Learn More