The S&P 500 is up around 1.75% over the last two months, but the Nasdaq is down around 4%. Part of the reason for this discrepancy can be found in the performance of ten key tech stocks. The PerfChart below shows IBM, Microsoft, Intel, Cisco and Oracle with gains over the last 41 trading days. In contrast, Netflix, Facebook, Google, Tesla and Amazon are down, and down rather sharply. The old guard is holding up the market right now and showing some serious relative strength.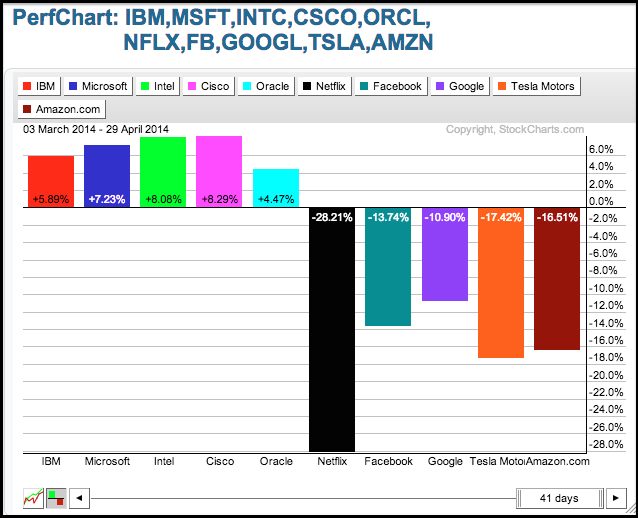 Click this image for a live Chart
About the author:
Arthur Hill
, CMT, is the Chief Technical Strategist at TrendInvestorPro.com. Focusing predominantly on US equities and ETFs, his systematic approach of identifying trend, finding signals within the trend, and setting key price levels has made him an esteemed market technician. Arthur has written articles for numerous financial publications including
Barrons
and
Stocks & Commodities Magazine
. In addition to his Chartered Market Technician (CMT) designation, he holds an MBA from the Cass Business School at City University in London.
Learn More