As retail starts shining with Back-To-School and the early ramp into US Thanksgiving and Christmas, the Consumer Cyclicals sector is in prime focus. Abercrombie And Fitch Co. (ANF) is an apparel retailer associated with a younger demographic.
For those of you at Chartcon, in the presentation on the SCTR, I mentioned the SCTR kickoff that starts to say the sentiment is changing in the stock. This is a great example. The SCTR started to perk up, but the stock was still migrating from a downtrend to an uptrend. Now as it starts to make higher highs, it is becoming one of the top performing stocks in the mid cap apparel retailer industry group. Nothing is surging on the other indicators but the stock made its low right around Christmas last year and the management seems to be changing things up as the investor community is starting to push it to higher highs and lows.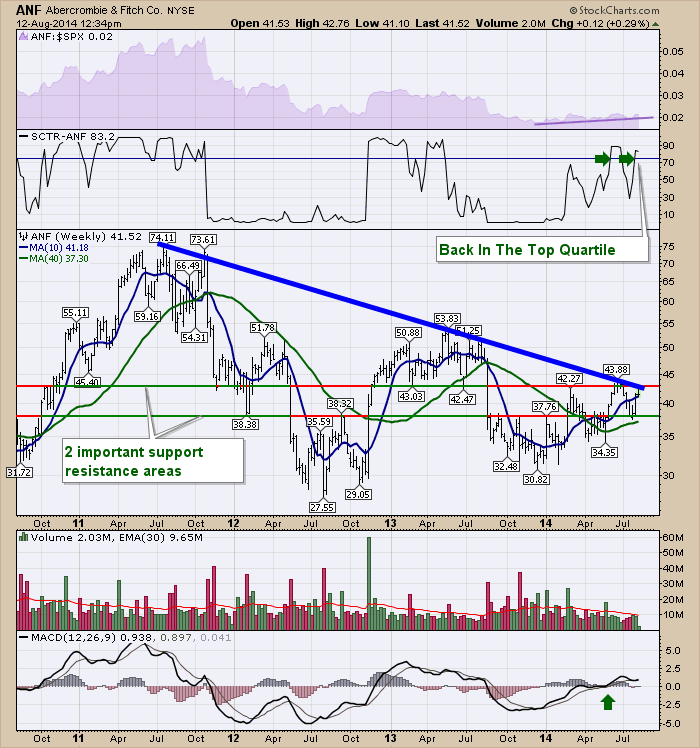 The recent bounce off the 40 WMA or 200 DMA is pretty important support and the MA's are bullish with the 10 WMA above the 40 WMA. The current price is just under the top horizontal resistance line. A break through here suggests higher ground. There is one other elephant in the room. The massive blue thousand day downtrend. A break through that line which is at the same level as the current price would mark a significant trend change.
After watching two teenage daughters shop for back to school over the years, I am pretty quick to ask them what they think about an apparel retailer. Now they are in their University years. The youngest one said, "Yes Dad, I plan to do some back-to-school shopping at Abercrombie." She hasn't said that in a couple of years. One buyer might not be a trend change, but it might be a clue that attitudes are changing towards the local ANF store.
It reminds me of all those songs about blue jeans that made it to the top of the charts, but that's another chart list!
Good trading,
Greg Schnell, CMT