Google (GOOGL) has been holding a PnF support trend above the normal PnF major support trend.
Google is currently on a sell signal because it has made a lower low than the $580 level. Since breaking below $580, Google has bounced back up and back down. It is oscillating into a narrowing pennant. However, if we look at the longer trend, Google appears to like this support level higher than the standard trend line calculated by the PnF engine. Because it is on a lower low and has been unable to make higher highs, Google has a bearish target. It would take a break above the last column of X's at $595 to go back on a buy signal. In order for the PnF chart to make a higher high, Google will have to make it up to $600.00. While that would be easy to accomplish, Google is just at a precarious position of support based on the higher trend line which is parallel to the main PnF trend.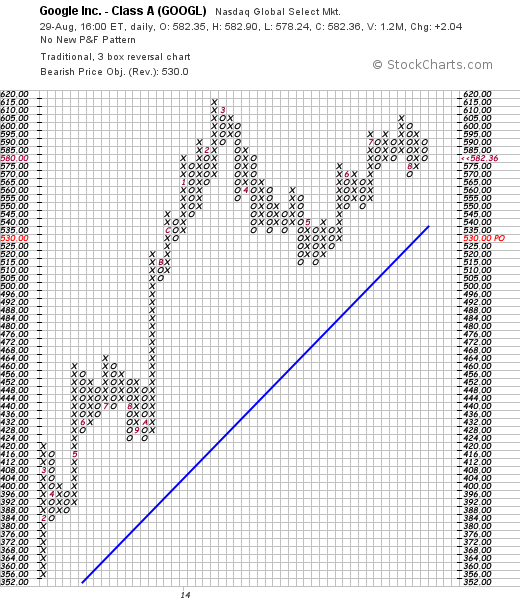 It is worth watching at this point. Google recently celebrated its tenth anniversary of being a public company. It has been a wild success story for investors so far.
Good trading,
Greg Schnell, CMT