Rite Aid Pharmacy (RAD) changed its shareholder medication this week. The pharmacy chain moved up 900% in 18 months delivering happiness to the shareholders. That move up topped out in May. Since then, the pharmacy lost almost 50% of the gain.
This week the headache was confirmed when the stock could not stay near the 40 WMA and lost 18%. Rules based trading can help newer investors. When the trend in the purple relative strength was broken at point #1, it may have encouraged a swing trader to exit at least part of the position.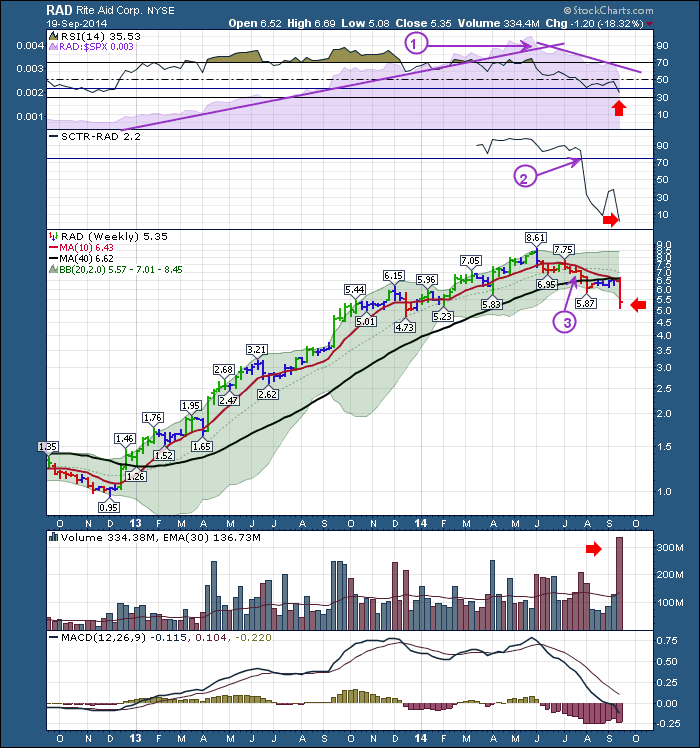 This stock was just being added to the SCTR rankings when StockCharts.com upgraded the number of stocks with SCTR's in March. Rite Aid's SCTR gave a sell signal (Point #2) roughly when the stock crossed below the $ 6.96 level the first time which was also a plateau of support (point #3).
So this stock offered three different sell signals using a basic weekly chart for longer term position traders.
1) A break of the relative strength up trend.
2) The SCTR falling out of the top quartile.
3) A break of support through $ 6.96
The hardest part of trading is selling big winners and big losers. The current price is right in the middle of the September to February consolidation area. There are lots of shareholders who entered at this level and have round tripped the profit only to be back near where they started. With the huge volume surge this week, it might have washed out a few of the weak hands in the stock. Now the shareholder needs a pain management plan.
Good trading,
Greg Schnell, CMT