I just wanted to post an interesting chart of Pixelworks (PXLW) that showed up on the "Nasdaq Percentage Up" list from the home page.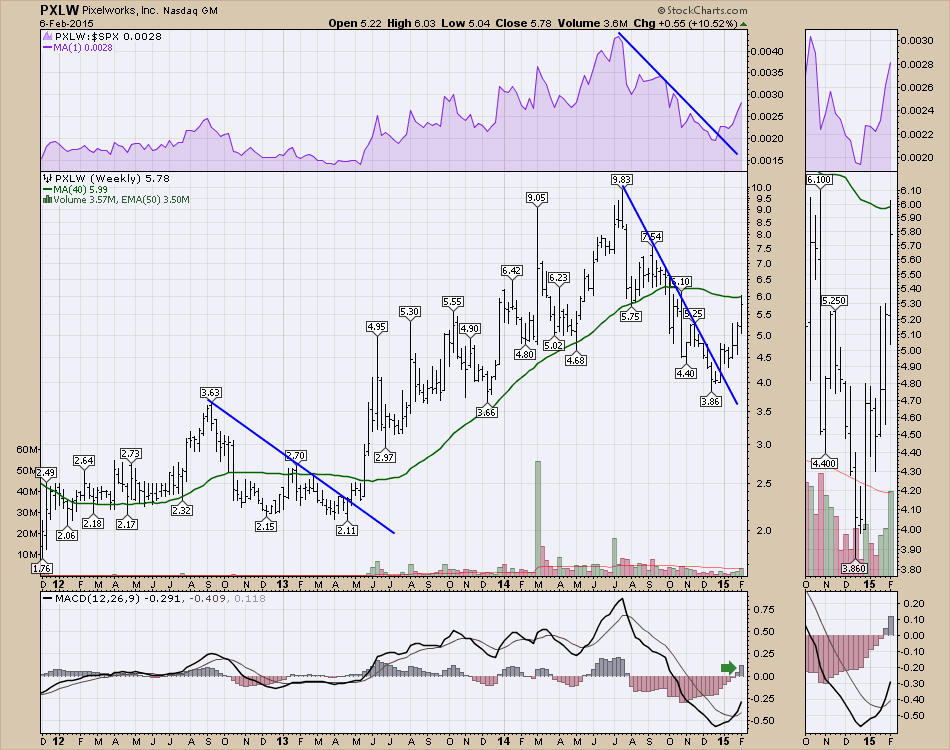 This chart is particularly interesting. The stock had a beautiful run up from $2 to $9 and then retraced. The stock has started to rally since the new year started. This week it reached up to the 40 WMA which is an interesting place to start looking for longer trends. The stock has a nice high weekly volume of 3.5 million which works out to 750,000 shares a day.
Every now and then, its nice to look at the small caps especially since the Russell 2000 looks set to start outperforming. The Russell 2000 ($RUT) has started to break out relative to the $INDU so perhaps it can start breaking out relative to the $SPX.
If the small caps look set to lead, this might be an interesting time to stare at the pixels. We should find out if the Russell can start to lead in the next few weeks.
Good trading,
Greg Schnell, CMT
About the author:
Greg Schnell
, CMT, MFTA is Chief Technical Analyst at Osprey Strategic specializing in intermarket and commodities analysis. He is also the co-author of
Stock Charts For Dummies
(Wiley, 2018). Based in Calgary, Greg is a board member of the Canadian Society of Technical Analysts (CSTA) and the chairman of the CSTA Calgary chapter. He is an active member of both the CMT Association and the International Federation of Technical Analysts (IFTA).
Learn More