Even though the pattern is a bit big, the gaps fit and it looks like Twitter (TWTR) traced out a large island reversal from late October to early February. The stock gapped below 45, traded below this gap for a few months and then gapped above 45. The result is a price island where shorts are trapped with losses. Anyone shorting the stock below 45 is now trapped with a loss. The blue gap zone turned into support last week as the stock bounced off the 45 area. We have yet, however, to see a continuation of the February surge. Right now the Bollinger Bands are narrowing as volatility contracts, which tells us to prepare for a volatility expansion, or price move. A break above the upper Bollinger Band would be bullish, and a break below the green support zone would be bearish.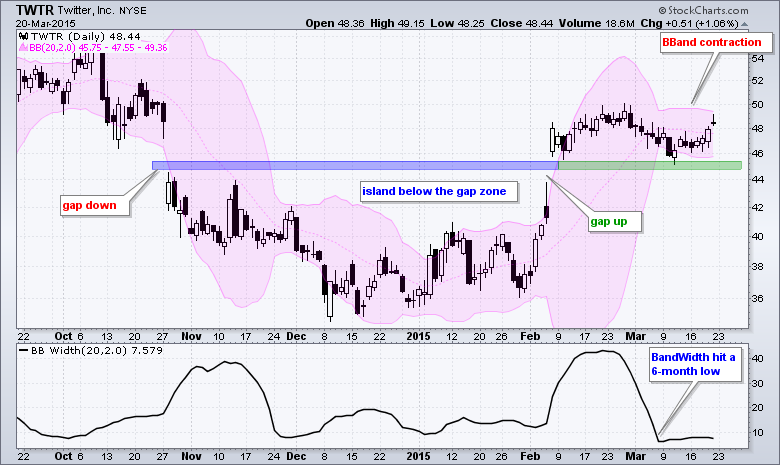 Click this image for a live chart
About the author:
Arthur Hill
, CMT, is the Chief Technical Strategist at TrendInvestorPro.com. Focusing predominantly on US equities and ETFs, his systematic approach of identifying trend, finding signals within the trend, and setting key price levels has made him an esteemed market technician. Arthur has written articles for numerous financial publications including
Barrons
and
Stocks & Commodities Magazine
. In addition to his Chartered Market Technician (CMT) designation, he holds an MBA from the Cass Business School at City University in London.
Learn More