Eight of the nine sector SPDRs are down month-to-date and the S&P 500 SPDR (SPY) is also down (as of the 9-June close). One sector, however, is bucking the trend with a small gain. The Finance SPDR (XLF) is up around a half percent and easily outperforming the other eight sectors, and the market in June. The Consumer Discretionary SPDR (XLY) and Industrials SPDR (XLI) are in second and third place with declines less than 1%. These two are showing relative strength by holding up better than the other sectors. In fact, these two could turn positive with decent gains on Wednesday. We will look at the XLF chart after the jump.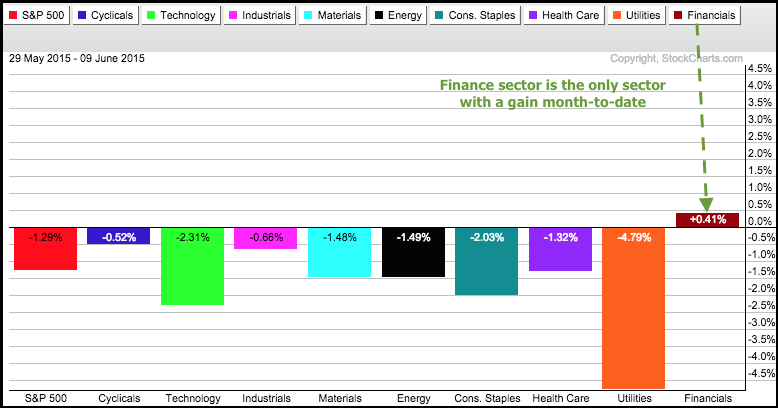 ---
The chart below shows the Finance SPDR (XLF) with a Bollinger Band squeeze into late April and a breakout in early May. The ETF has been moving higher since late March with a slow grinding advance. It ain't the most exciting move in the market, but it is an uptrend with first support in the 24.5 area. The indicator window shows the StockCharts Technical Rank (SCTR) edging higher since late April as relative strength improves.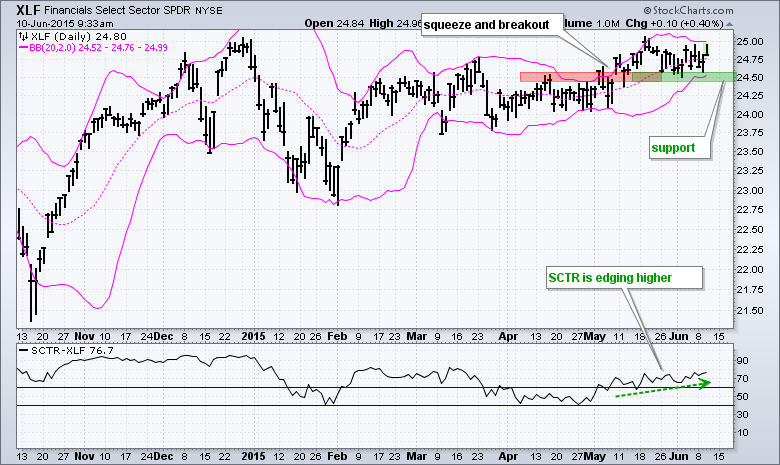 Click this image for a live chart.