Chartists looking for the "relative strength" movers and shakers of the day can focus on the stocks and ETFs with the biggest changes in their StockCharts Technical Rank (SCTR). Small tables can be found in the bottom half of the home page and full listings can be found on the SCTR home page. The image below shows the "Top Up" list for the large-cap SCTRs and the ETF SCTRs. Notice that Eastman Chemical (EMN) and Time Warner (TWX) are highlighted. I chose these two stocks because they have constructive chart patterns at work. The charts for EMN and TWX are shown after the jump.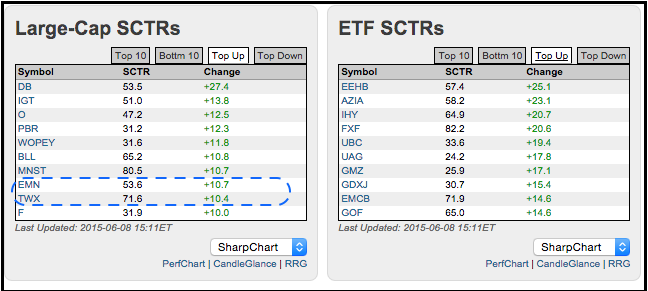 Click this image for a live table
---
The first chart shows TWX hitting a new high in mid March and then correcting with a triangle. The stock broke above the triangle trend line in mid May and stalled in the 84-86 area. This stall may be ending as TWX surged over 1% on Monday.

Click this image for a live chart
The second chart shows EMN with a double bottom breakout and a throwback to broken resistance, which turns support. The throwback looks like a falling flag and the stock is bouncing off support the last few days.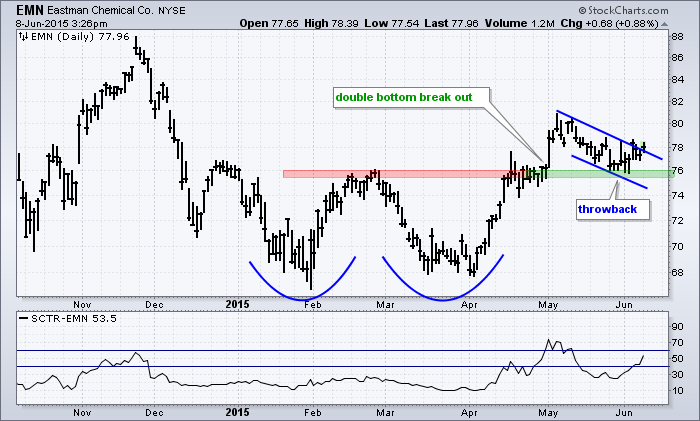 Click this image for a live chart