The BlackRock MuniYield Fund (MYI) broke above the trend line this week. This move into Munis and the TLT's move to higher ground all point to a change in trend on the bond side of the landscape.
The Relative Strength shown in purple has not broken out yet and the MACD has not crossed up on this weekly chart but is very close to doing so. A rise in bond prices shown on this chart would create a decline in yields which suggests the Fed's goal of raising interest rates is slipping, based on the price action in the market.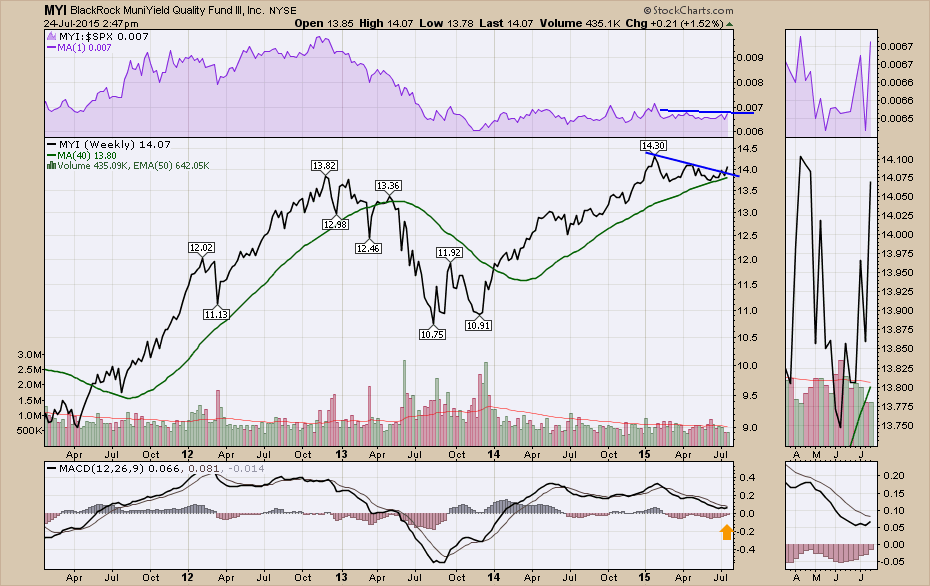 The MACD turning higher above zero would be bullish for bond prices. The fact that momentum has returned back to the zero level and turned up would suggest a case for another bullish run with room to the upside. Should it be a failed breakout and the price rolls over right away, investors should expect a sharp move down. This bond market has moved opposite conventional wisdom of what people think will happen for the last two years. This might be another case of the bond market moving opposite Janet Yellen's expectations. The Fed meets July 28-29. A shift in position to rate hikes in 2016 would probably be a big shock to the market. As Janet Yellen testified only last week, this would be a surprise move. Time to watch the bond market very closely...
I also covered the bonds on Thursday's webinar, in case you missed it. The link to the recording is provided here. Greg's Market Roundup Live 20150723. If you are not subscribed to blog updates by email, you can go to the blogs tab and then use the drop down menu on the Right Hand Side to find your favourite authors. Click onto their blog page. Select to be updated by RSS or email in the top tight corner. It's that easy.
If you're looking for weekend reading, I opined a long article on Martin Pring's Market Roundup blog (for subscribers) this morning that highlights some other important market trends. I think you'll find it compelling reading. Here is the link to that article - Everyone's Concerned About Industrial Disease.
Good trading,
Greg Schnell, CMT