Culp Industries (CFI) is a small cap company making mattress cover fabric as well as upholstery fabric. The stock has really been climbing out of the bed it made last summer. Culp has all the attributes of a nice run and it climbed higher today on a day where the big market was faltering. The SCTR broke above 75 as it broke out of the bed base in December last year. It backtested the mattress support/resistance level in early February. With the exception of the 'Dow down a 1000' day, the moves in the stock have been small intraday ranges even though it's a small cap which can sometimes be more volatile. The relative strength line shown in purple continues to move higher and the sudden surge today to new relative strength highs. This surge in price and relative strength was a big push on the back of earnings after the bell on Thursday.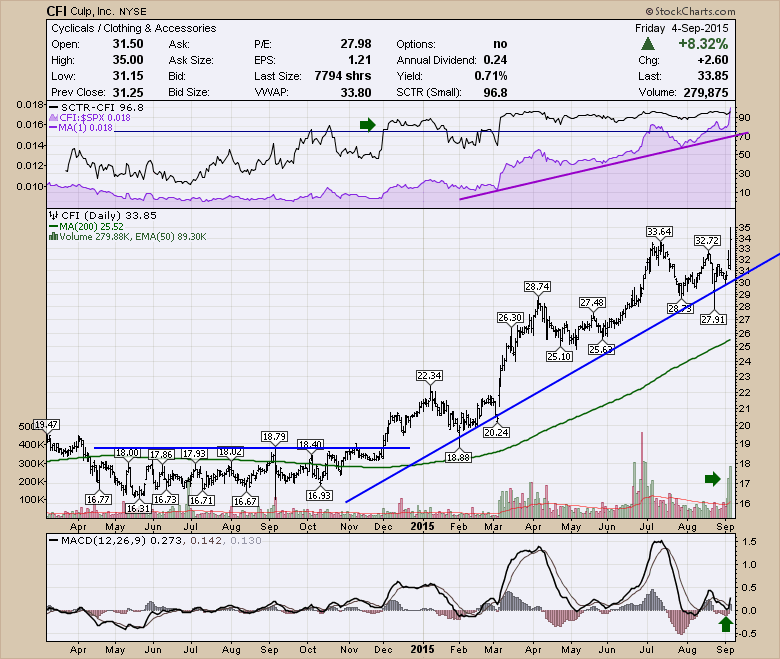 The volume soared yesterday and today and the stock is now up over 10% in two days. Investors may want to look for a better entry on a pullback, but the MACD is definitely turning higher after finding support at the zero line.
Even with a rough overall market in terms of breadth, this one has been helping a few people sleep better. With the rough waters overseas starting to swamp our markets, some of these local gems might just make a better choice. The biggest issue with the small cap arena is the liquidity so small position sizes are recommended.
Good trading,
Greg Schnell, CMT