Recently, a new REIT was launched with the incredible name of Apple Hospitality REIT (APLE). While I think the world of investing has enough focus on a different Apple (AAPL) as the world's largest company, I'll let you decide what you think of this REIT. This company invests in Real Estate under the Hilton and Marriott hotel universes. The reason I am bringing this recent IPO to our daily blog is the price action looks pretty good here.
With solid brands to rely on for consistent revenue, investors seem to like this REIT. The average volume is 800,000 shares/day and in the last week, the price has managed to break above a 2 month down trend. Last week had three closes very close to $18 even on big down days like Friday. Today, the stock made new 6 week highs.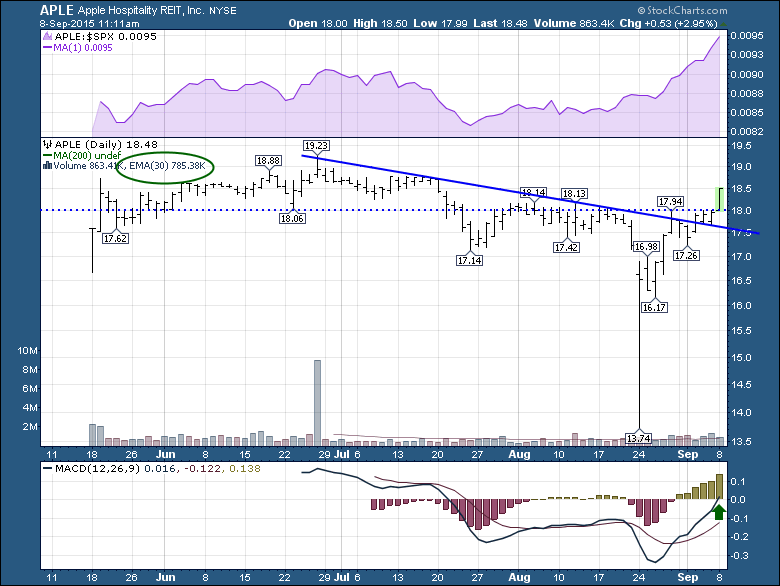 IPO's are inherently tricky to trade as technicians like to use former price to help develop a directional trend. In this particular case, our history lesson is only 4 months. In spite of the overall market weakness, this looks to be holding up nicely and the stability of the tenant revenue flows are probably going to help this REIT get established.
While Apple Hospitality (APLE) has nothing to do with Apple Inc. and the big Apple (AAPL) event tomorrow, they seem to be making a technical launch of their own on the chart above. Having strong relative strength in a weak market as a new IPO can only be considered a good thing. Should it roll over, a stop just under $18 would be appropriate as that looks to be support / resistance.
Good trading,
Greg Schnell, CMT