US Distillate demand is down over 8% this year. That is huge.
Gasoline Demand is up 0.7%
Total Product inventories (Page 3) are eyeballed about 15% above the 5-year range for this time of year while product demand is inside the normal 5-year range and consistent with 2014.
Those are some quick facts from a refining industry report this week that popped up from an internet search. My compliments to the Scotia Howard Weil report for a concise snapshot.
The refiners have been having a party as of late, but recently the refining margins have been narrowing. Below is a perf chart showing some of the refiners and the right side of the graph displays most of them breaking recent trend lines. Perf Chart Link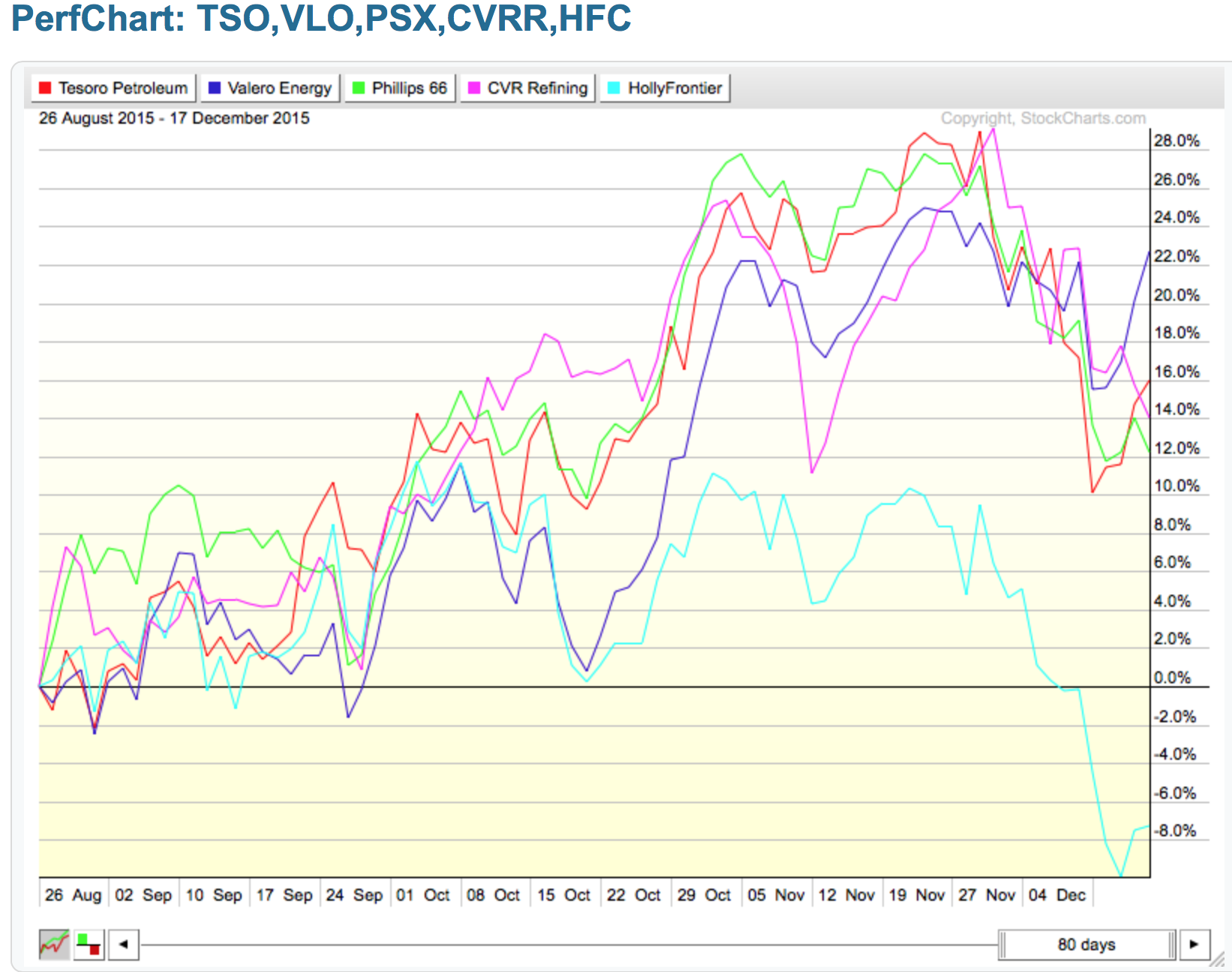 ---
As the energy industry unwinds, the demand for commercial goods has also declined. A small example would be lower demand for diesel fuel (distillate) used to do lease clearing, trucking, fracking, drilling, and rig moving. Other commodities like steel made chart highs in September 2014 and have roughly the same downslope as crude oil. All of this steel in the oilpatch is no longer moving for equipment like pumpjacks that normally move from Texas to places far, far away like Alaska. Slowly, industry after industry is being pulled into the declining trend. Transports have been a good guide of lower volumes being transported. Everyone expects the airlines to go higher, but they have been in a trading range for a year, albeit they are near the highs of the range. Recently, retail has been slowing as well. With a massive decline of 8% in distillate demand and rising inventories, this is the time to check some of the macro trends. The bump in refining margins might have already seen its peak. Owners may wish to fuel up their portfolios by locking in gains.
Good trading,
Greg Schnell, CMT