The US Dollar ETF (UUP) is getting whacked on Wednesday and breaking its January lows. The trading day is not over yet, but the Dollar is on pace for its biggest daily decline since early December. On the price chart below, notice how UUP fell sharply in early December and then worked its way higher with a rising wedge the last two months. The chart actually shows two rising wedges patterns. The first extends to late January (gray trend lines) and the second extends to early February (blue trend lines). UUP broke the lower gray trend line a week ago, but surged back above 25.9 almost immediately. This called for a re-evaluation of the chart. After redrawing the wedge lines, the ETF broke the lower blue trend line today and also broke below the early January low (horizontal support based on a prior low). This support break is short-term bearish and signals a continuation of the early December decline, which was not really that deep. I will look at the Euro and the weekly chart for the Dollar after the jump.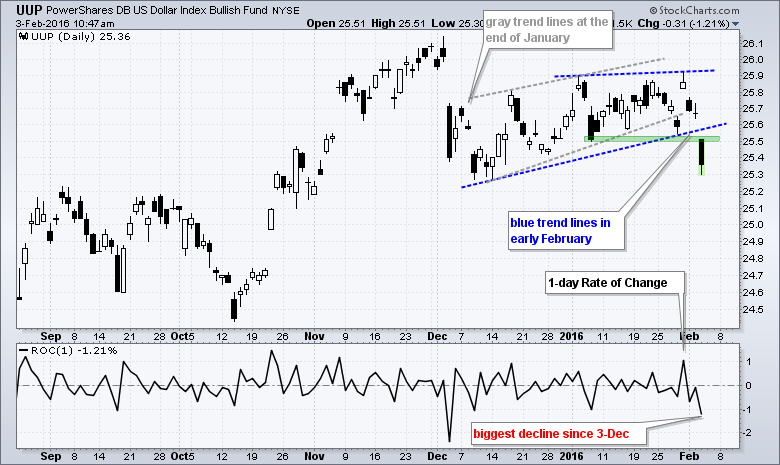 ---
The next chart shows the Euro ETF (FXE) getting a triangle breakout with a surge above the mid January high.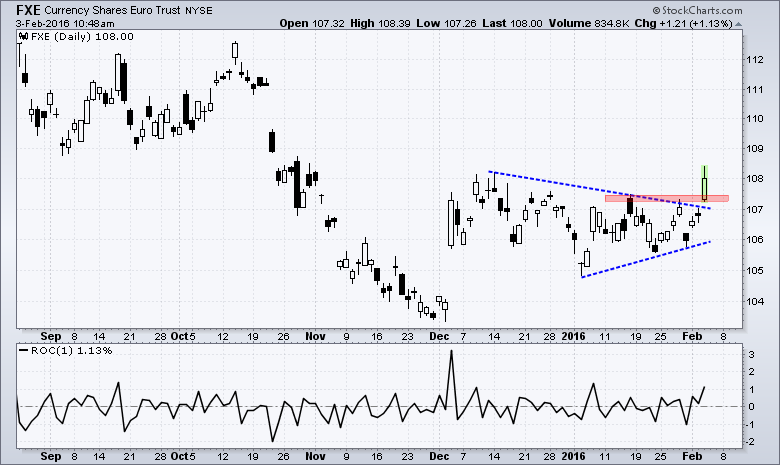 Even though the Dollar breakout is short-term bullish, I still think the long-term trend is up for the greenback. On the weekly chart, UUP broke wedge resistance with a surge in October and stalled after this breakout. A move below 25.2 would negate the breakout. Currently, the 5-week EMA (pink) is above the 52-week EMA (blue) and the 52-week EMA is rising. A close below 25 would call for a reassessment of this moving average pair. Bottom line: I think the long-term trend favors the bulls until a weekly close below 25. Before leaving this chart, note that UUP has not moved much in the past year. The ETF was exceeded 25 in January 2015 and is currently just above 25.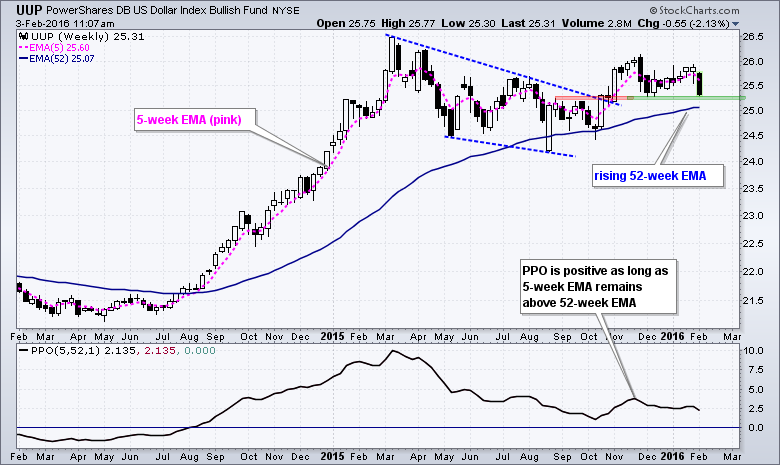 ****************************************
Thanks for tuning in and have a good day!
--Arthur Hill CMT
Plan your Trade and Trade your Plan
*****************************************