2016 has not been a very good year, although the rally the past few weeks has alleviated some of the earlier pain. I guess we should party like it's 1999.99 because that's where the S&P 500 closed on Friday. Couldn't we just get one one hundredth of a point at the close to make it an even 2000? Nope. The S&P 500 is roughly 6% off its all-time high, but the Dow Jones U.S. Medical Supplies index ($DJUSMS) has broken into all-time high territory, and it's done it with heavy, confirming volume. Take a look:
---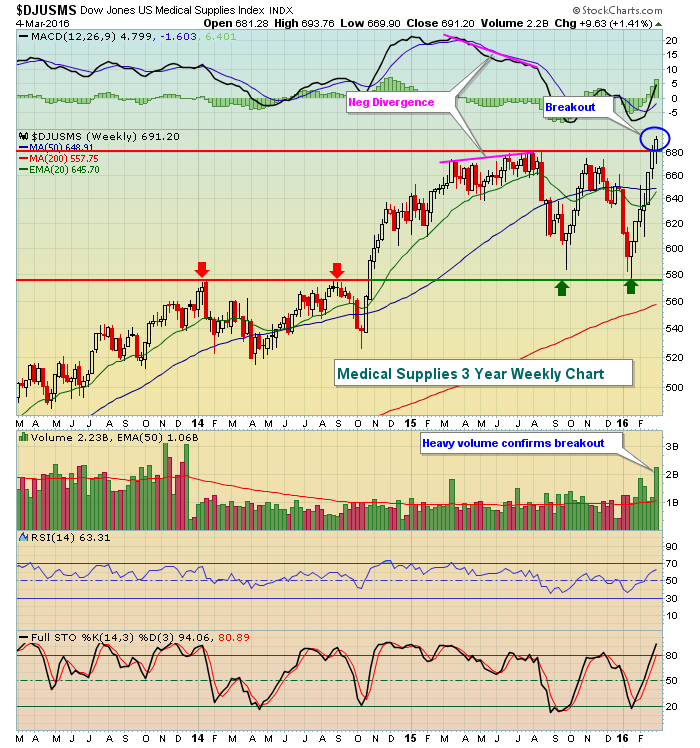 Prior to the market's August flash crash, the DJUSMS printed a negative divergence on its weekly chart and that led to much selling in August and September. And during the early 2016 selling, the DJUSMS fell all the way back to key price support below 580 before its recent ascent. Two individual stocks that have SCTR rankings over 90 in this space include Anika Therapeutics (ANIK) and Edwards Lifesciences (EW). The former is a small cap stock while the latter is much larger. Both recently broke out - ANIK to a 52 week high and EW to an all-time high.
Happy trading!
Tom
About the author:
Tom Bowley
is the Chief Market Strategist of
EarningsBeats.com
, a company providing a research and educational platform for both investment professionals and individual investors. Tom writes a comprehensive Daily Market Report (DMR), providing guidance to EB.com members every day that the stock market is open. Tom has contributed technical expertise here at StockCharts.com since 2006 and has a fundamental background in public accounting as well, blending a unique skill set to approach the U.S. stock market.
Learn More