The ChartWatchers newsletter on the weekend had varying opinions on this rally starting a new bull market trend. With the wide range of perspectives on the market, it is always interesting to read how our market writers are analyzing the market.
Today is one of the first weak days in this rally. Is this an end to the trend? There still appears to be safety in the Utilities, Telecommunications and Consumer Staples. In a defensive environment (downsloping 200 DMAon $SPX), these stocks are still striking new highs. Public Service Enterprise (PEG) is a good example. The SCTR stayed nice and strong throughout this rally, even though most risk-on stocks were being widely talked about.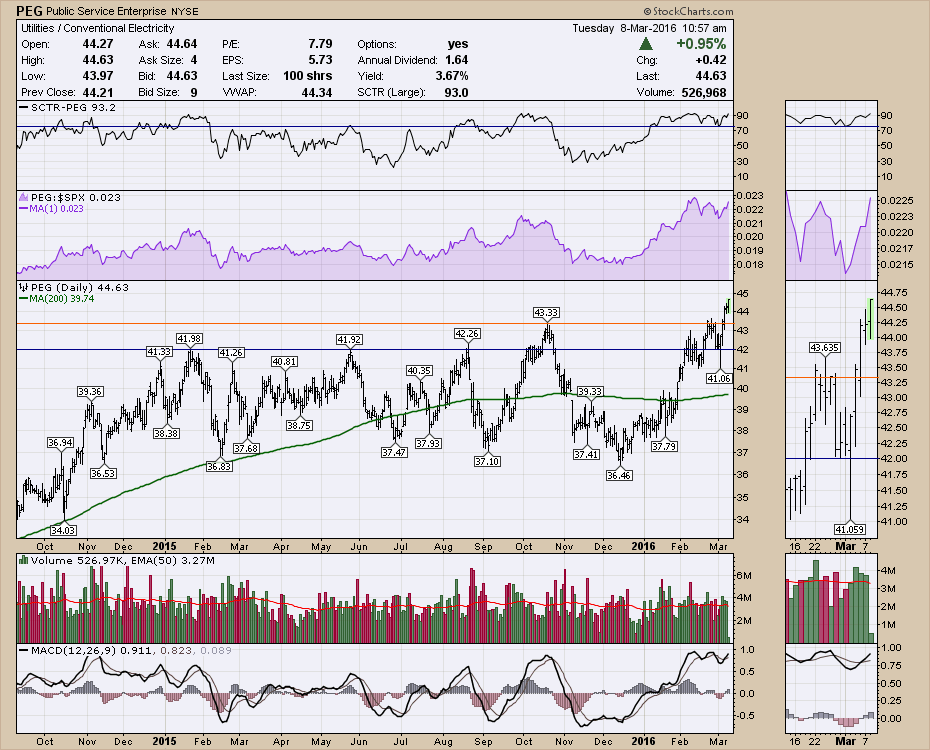 ---
If this is a bear market rally, these stocks might hold up better if the market starts to pull back. Safety is always a good trait in a market with so many conflicting signals. If this is a new bull market, we should start to see the relative strength weaken on the Utilities. Based on charts like this, it still looks like defensive stocks are holding up well.
I'll be hosting a webinar this afternoon discussing the commodities that have recently soared. You can register for the webinar by following this link. The Canadian Technician 20160308. Arthur Hill will be on deck at 1 PM EST with Art's Charts Live Webinar 20160308. If you miss the webinars live, you can follow this link to catch the recordings. StockCharts Webinar Archive.
Good trading,
Greg Schnell, CMT, MFTA.