Five Prime Therapeutics (FPRX) is a small cap that trades about 600,000 shares per day. This week it is poking up to new all-time highs. In the wild world of Biotech, this stock has built a wide-ranging but solid uptrend.
While all biotechs are volatile, the group has been under pressure since the biotech top last July(see SBIO, XBI, IBB). There has been a tendency to stay away from the area but all three of the ETF's look like they are trying to break out from the bases they have formed (Not shown). Arthur Hill showed a renewed push in Healthcare as a sector in Thursday's Don't Ignore This Chart. As these groups break out of bases, watching to see who is leading can be very profitable.
Back to Five Prime's chart, the SCTR is the highest in the Biotech group. With a stock price near $50 and a solid uptrend in place, the chart looks attractive. If it can continue the relative strength uptrend, this looks like a solid place to get on board.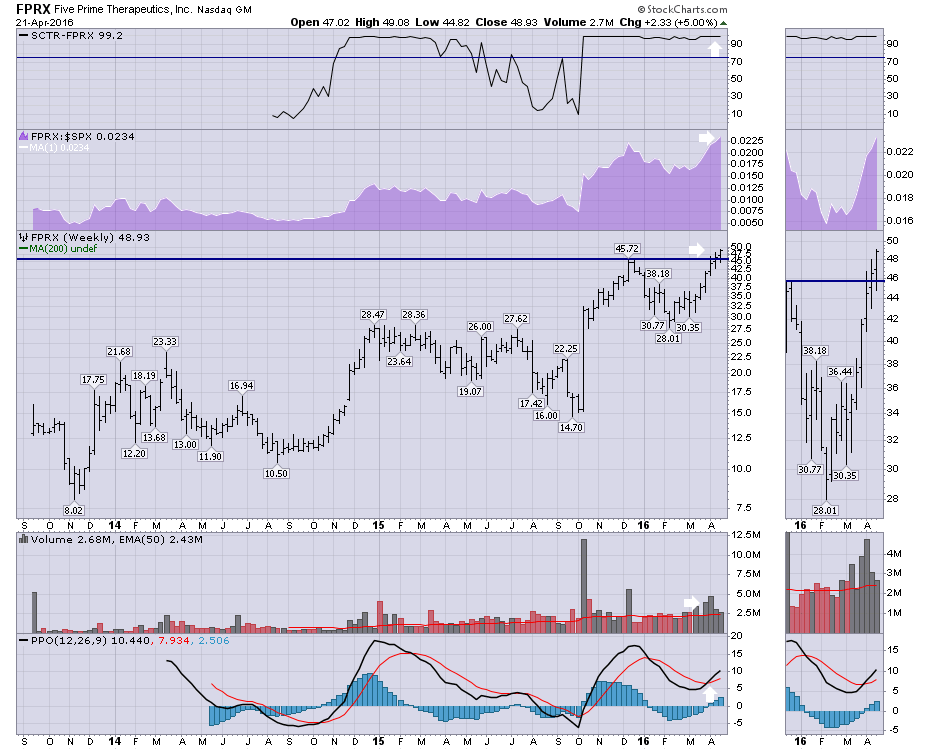 ---
I used the PPO rather than the MACD as the price range on the chart makes every MACD look significantly higher. The PPO, which measures percentage price change, is not anywhere near an extreme for the stock. Just looking at the volume broadly, there is a continued rising interest in this stock. Since early March, the volume has been above average every week.
With all the technical indications of a new bull market taking place, this could be one to watch. Within the next few weeks, we'll probably know if the $SPX has the power to break out and hold new highs. If it is able to hold the new highs, that should lead to more aggressive risk-on exposure. A rotation into Biotechs would potentially be a part of that with the enhanced gains seen in the industry group.
Good trading,
Greg Schnell, CMT