Raytheon (RTN) and Northrop Grumman (NOC) both have SCTR's above 75 and are looking strong in the face of many charts trying to get back above their 200 DMA's. I like Raytheon a little bit more today because of the conditions of the chart. Raytheon has been in a multi year uptrend and pulled back in Relative Strength (purple) for the last 6 weeks. This break in the trend is important. I like the re-acceleration of the SCTR back above 75. In terms of raw price action, it just keeps testing this $126.50 to $128.50 range. This looks like it probably has the potential to pop right out the topside here.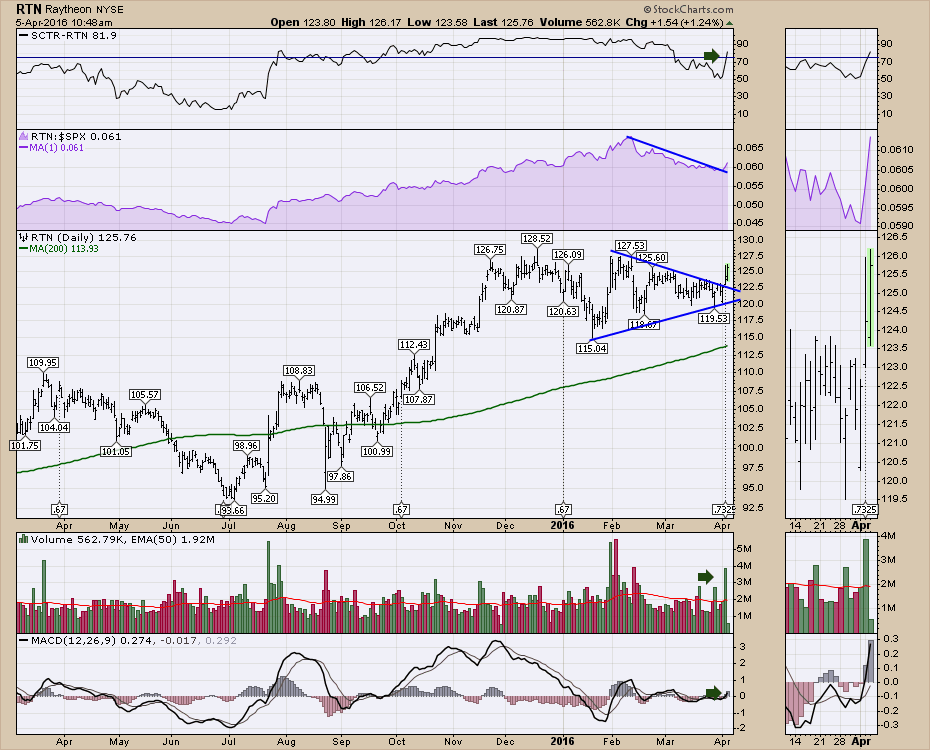 ---
I like the strong volume on the break outside the wedge yesterday and the MACD is turning up from a neutral level which might also suggest this is ready to run. A stop level at $120 would suggest this needs more time to consolidate.
I will be doing The Canadian Technician Webinar 20160405, (Tuesday,April 5th, 2016 which is today at time of writing!) - with a continuation on the Japanese Yen, the Nikkei, the oil and gold markets, the Canadian sectors and a few other gems. Feel free to join me at no cost by following this link to register!
I will not be doing a Commodities Countdown Webinar on Thursday April 7th, 2016 but will be back the following week! Hopefully, I'll have some highlights from the MTA Symposium in NYC as well.
Good trading,
Greg Schnell, CMT, MFTA.