Viacom (VIAB) stock is in the crosshairs of the Sumner Redstone battle. With so many issues surrounding the stock, it seems to be a disaster in progress. This morning, Viacom announced that their third quarter earnings would come in below expectations, but the stock continued to rally. Let's look at the sentiment of investors.
First of all, the SCTR has moved above 75 which is a flag pointing to outperformance. The Relative Strength in purple has broken the 1-year downtrend and is now starting to make 4-month highs. It is an important point on the chart today as the stock is trying to climb to 6-month price highs. Thursday's volume was over 10 Million so some buyers were showing up for work. While the MACD seems to be swinging between buy and sell signals, the fact that it is residing above zero is bullish.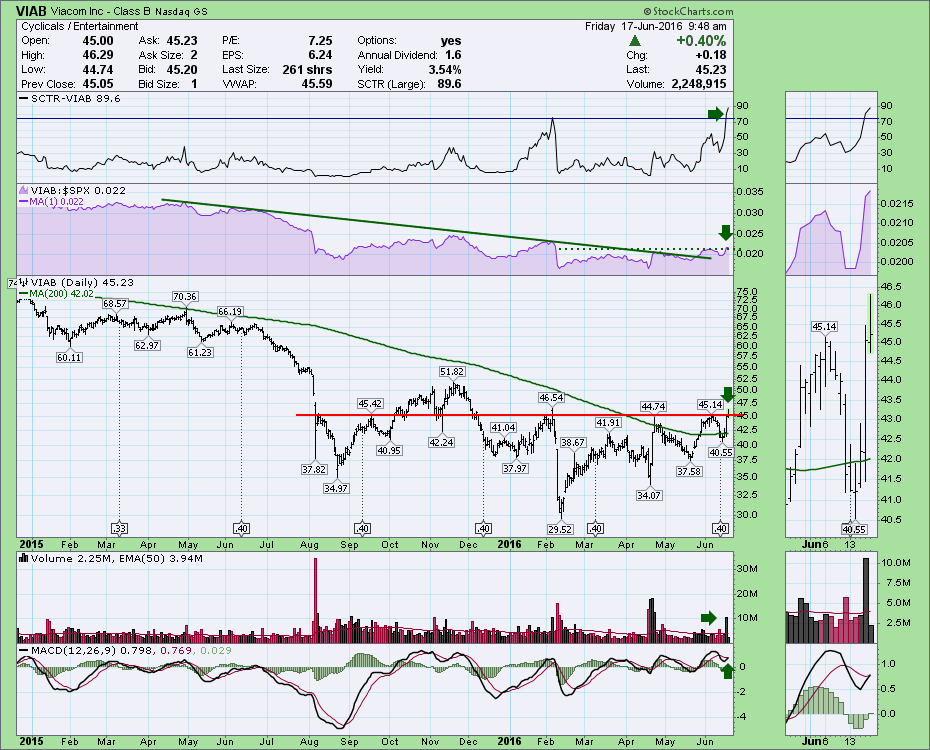 Sometimes the eye of the storm can generate great profits. In a company that produces entertainment for clients, perhaps the stock price can continue to amuse investors.
On Thursday, I recorded a Commodities Countdown Webinar 2016-06-16. As Commodity ETF's currently dominate the top 25% of the ETF SCTR rankings, the opportunity within the commodity sphere seems to be increasing. It might be timely to take a look over your morning coffee.
Have a great Father's Day Weekend and enjoy the US Open!
Good trading,
Greg Schnell, CMT, MFTA