North Atlantic Drilling (NADL) has been off a lot of the investing community's radar as it was such a beaten down stock in an area that everyone expects to stay bearish forever. But the stock has consistently climbed off the early 2016 lows and continues to have some of the best price action inside and outside the energy space.
The SCTR moved up in early June and the stock continues to rally above the 200 DMA. The uptrend has started in Relative Strength and that continues to push higher. Today was a big push up of 15% so the stock is very volatile.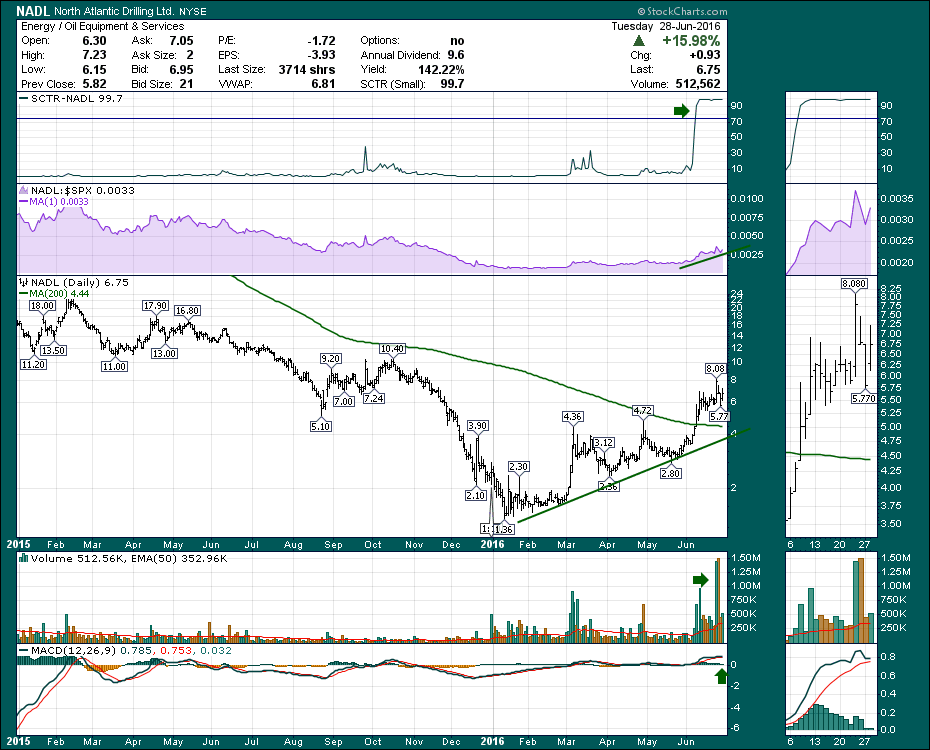 ---
The volume has fluctuated wildly over the last week and the MACD is slowing in momentum so this might need a little time to consolidate. The energy sector has a lot of companies with SCTR rankings above 75. As hard as it is to own, when you see the group trending up so well, it is hard to sell high ranking SCTR stocks.
While I think Brexit might create financial problems in Europe for banks there, the real question for Energy investors is can the oil industry start to reignite the global growth story after sliding for 2 years? The final high for oil was June 2014. These drillers are continuing to rally which is probably a good sign of the phone starting to ring to start new jobs.
Brexit added a lot of uncertainty to the summer. The SCTR will point you toward which stocks have the best price action. Keep strong stocks in your portfolio to protect against wild volatility spikes.
Good trading,
Greg Schnell, CMT, MFTA