Kinder Morgan (KMI) is a large energy transporter with pipelines and storage across North America. This vast network of systems is a key component to the energy infrastructure and flow of key commodities. After struggling with some debt ratio issues last year, the stock was beaten down. Recently, the stock was pinned in a range after bouncing off the lows. Last week, KMI broke out in classic fashion, surging above the 40 WMA and looks to have lots of potential for moving higher.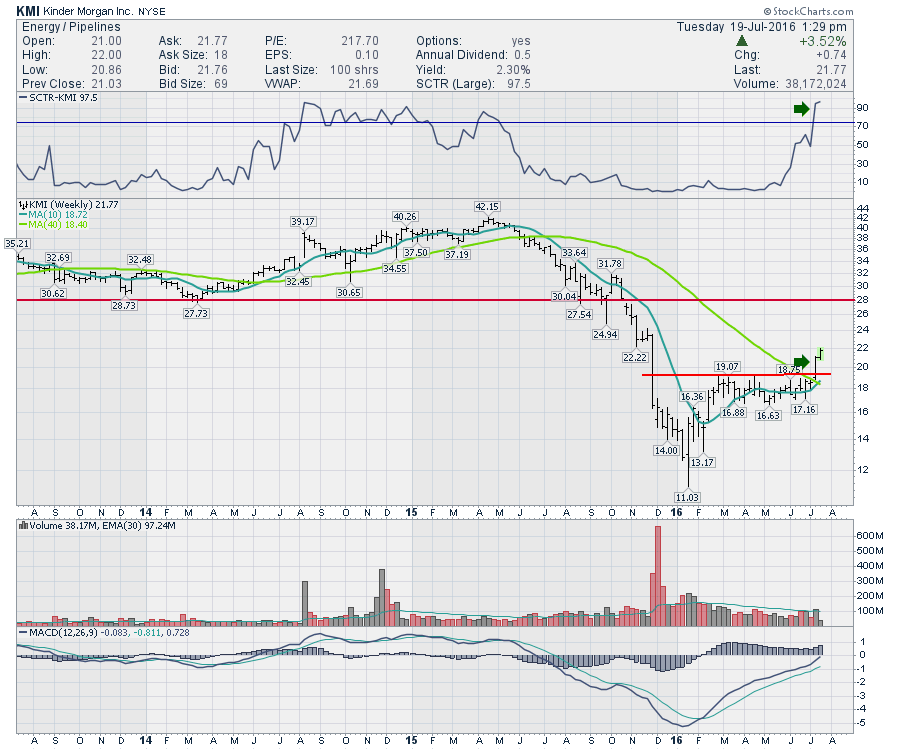 ---
After surging to new 6 month highs, this stock now has an SCTR of 97.5. As it just reached this level, this does not mean the stock is too overbought to own. Typically, it means just the opposite. The breakout from a base pattern shows early strength in a big move back to higher ground. The previous high in the stock price was over $42 so the stock is still about 50% below the previous high.
I recently did an analysis of the pipeline stocks in Canada. I included Kinder Morgan in this review also.
With a broad market breakout and a big push to the upside on strong volume, this stock looks well positioned to gain over the coming months. A stop could be set just below the breakout level.
Good trading,
Greg Schnell, CMT, MFTA.