Bank Of America (BAC) has been migrating higher over the last few months off the Brexit lows. As Bank Of America approaches the highs for 2016, the chart has some interesting traits. The last time BAC got near $15, the SCTR ranking was poor, sitting around 30. That means that 70% of the large-cap stocks had better price action than BAC. This trip to $15 is showing something totally different. While BAC has been climbing in a daily push higher, the price action is better than 80% of the large caps! The Relative Strength of BAC shown in purple has not been able to break out of the range yet. However, I will add that stocks like Morgan Stanley (MS) are starting to break out. Seeing the big financials start to outperform has to be bullish after being downtrodden from the relentless pressure of low-interest rates.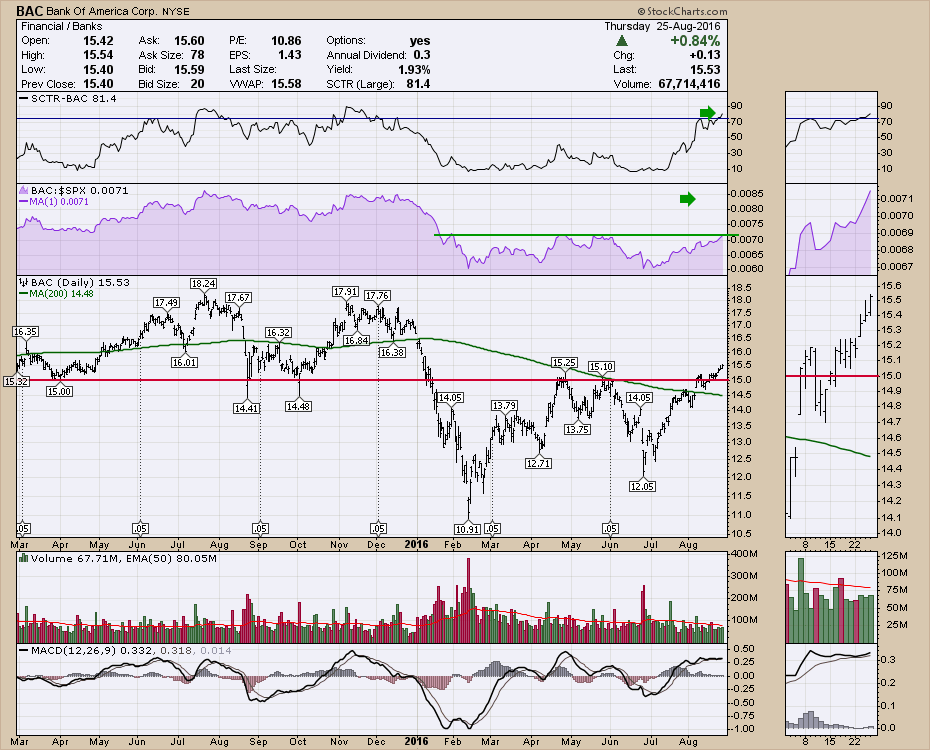 ---
While there is nothing amazing on the volume or the MACD, the chart looks solid here. BAC will also kick out a dividend next week.
I like the fact that the financials are starting to perform.
The webinar I did on Tuesday with Martin Pring had the highest registration ever for a live StockCharts event. Next month, Chartcon 2016 is coming to you via live stream broadcast. Rather than have customers spend all the money to travel to the event, we have arranged for all the technicians to gather in one location and broadcast from there, saving you thousands of dollars. It should be a crazy couple of days with a tight synopsis of the markets from an award winning Technical Analyst crew. You can register for this event for under $200 and have access to the recordings. ChartCon 2016.
Good trading,
Greg Schnell, CMT, MFTA