There aren't too many stocks under the same scrutiny as Twitter (TWTR) and expectations range from wildly bullish to wildly bearish. So what is a trader to do? Well, I'd ignore all the news headlines, which lately have gone full circle from potential buyout rumors to possible affiliation with Apple TV to this morning's downgrade and sell rating. Twitter stood below 16 three weeks ago after it reported poor quarterly results. Then it soared more than 30% as the buyout rumors and Apple TV connections hit the Street. The past couple days we've seen some mild selling, followed by this morning's downgrade and TWTR is now down 9% from Monday's intraday high on massive volume. This would be a great ride at Disney.
---
Skip the headlines and follow the charts. I'm looking for rising 20 day EMA support to hold. Check out the daily chart: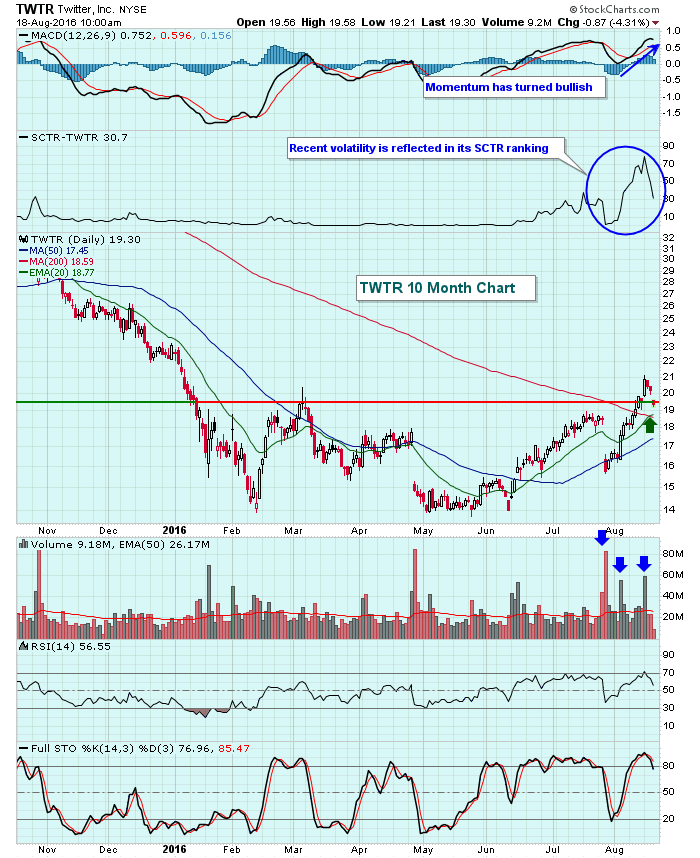 Since that fateful earnings day, volume has accelerated (blue arrows) to accompany recent buying in TWTR shares. While we've seen profit taking the past couple days and stronger selling today on the downgrade, the rising 20 day EMA (green arrow) typically provides great support in a stock or index displaying strong upside momentum - as the daily MACD confirms here on TWTR. While there is much volatility and risk in owning TWTR shares, its potential reward seems to be much better than its potential risk. We'll see how this plays out.
(Disclosure: I own TWTR shares)
Happy trading!
Tom