Fifth Third (FITB) is a bank with an upward bias above the previous peaks. After spending almost 2.5 years building a ceiling on the stock, FITB is finally pushing through. The SCTR started pushing up above 75 back in July. Last week was the break above the trend line.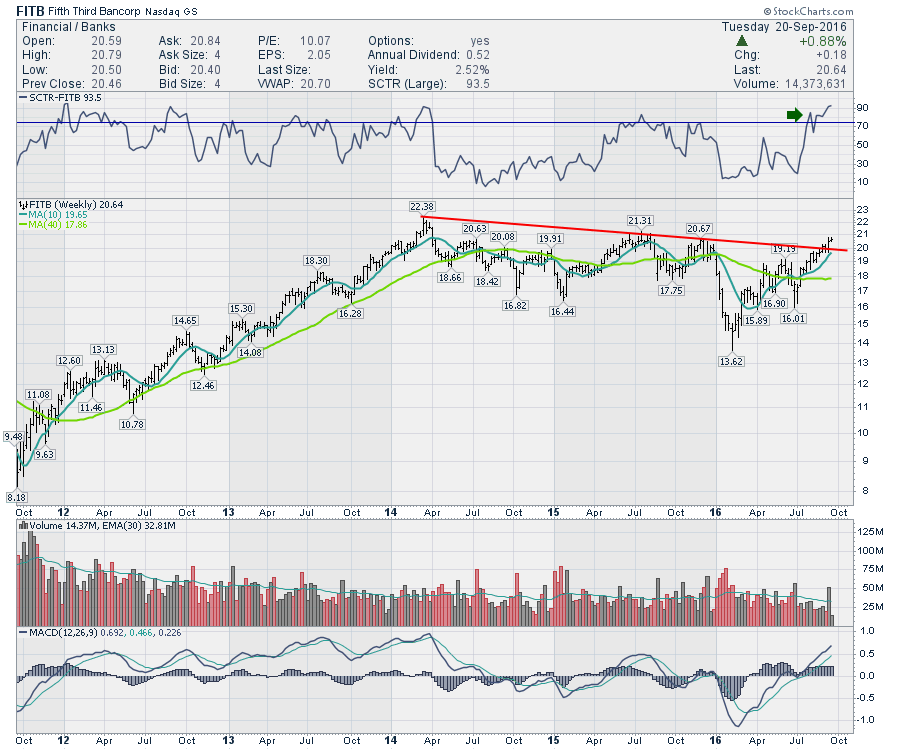 ---
With the Fed meeting tomorrow, it will be important to see how the bank stocks react. Some of the overseas situations on bank stocks are not as favourable, but this primarily US bank looks good.
---
I spent an hour chatting with Martin Pring this morning and we worked through a lot of charts over a skype call. Martin has some great ideas planned for this week and I am building a few new ones for my presentation as well.
If you haven't already signed up for ChartCon 2016, I think you might regret missing it. What a fabulous time on the charts to get input from 10 technicians. Click on the link to sign up. ChartCon 2016.
---
Hey, I am at Golden Gate University getting ready for tonight's talk. If you are in the area please join me!
September 20th, 2016 @ 4 PM
Golden Gate University. Rm 3214
536 Mission Street
San Francisco, 94104
Cost: Registration is $10 for MTA members and $20 for non-members
You can register through the TSAA-SF website. Click here.
Good trading,
Greg Schnell, CMT, MFTA.