Pfizer (PFE) has been working lower since the summer. The end of July has been an inflection point for quite a few of the defensive stocks. Pfizer stands out as a mega cap paying about a 4% yield with daily volume averaging around 28 million shares a day. So there is no shortage of interest, but it has been a 20% drop off the top. Now Pfizer is back in the middle of the range hovering around the 200 DMA.
We can see the SCTR has been under 50% for the last three months. I find the 50% level on the SCTR to be pretty important on defensive mega cap stocks. So far, PFE is still below that. But we do have a higher low in place and the MACD just went positive. Also, the overall stock market has been seeing some improvement in performance on the defensive stocks in the last week as Arthur Hill pointed out in an article yesterday about the defensive sectors. Defensives. The purple Relative Strength line continues to move lower which makes it difficult for new investors in the stock until the underperformance stops.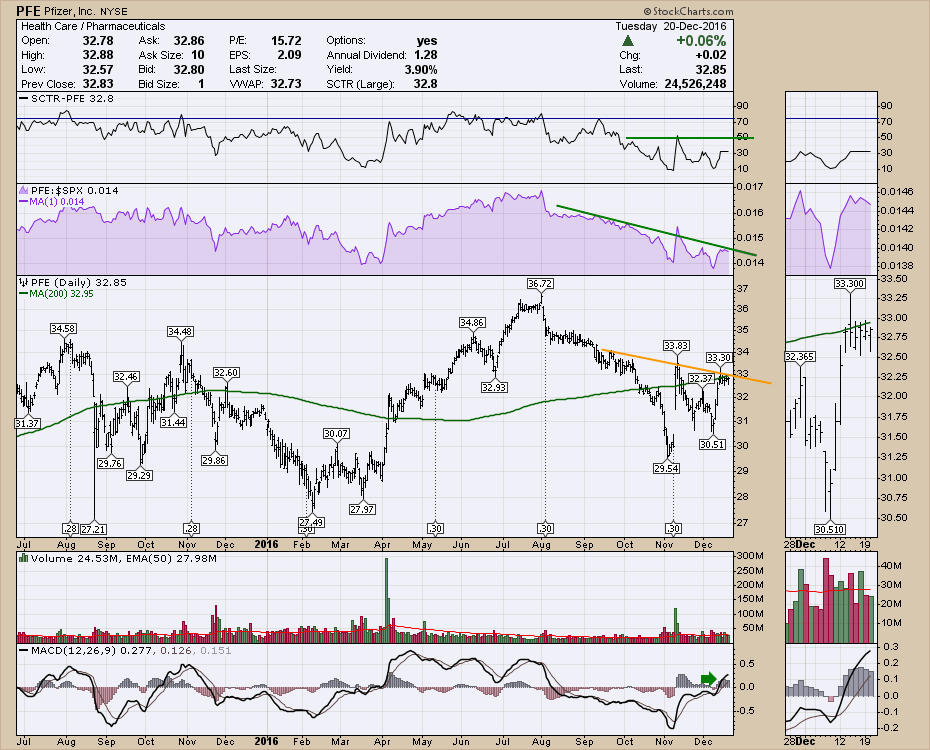 ---
The bottom line is this looks a little early for an entry. But if the purple RS can start trending up, the price will push above the 200 DMA and probably initiate an RS breakout and an SCTR that is better than 50%.
With Health Care starting to perform well, this is one to watch!
Good trading,
Greg Schnell, CMT,MFTA