I pulled up one month returns for all industry groups and there were several groups that have performed quite poorly over this period, despite the overall market strength. Toys ($DJUSTY) are down 6.78% over the last month, but a negative divergence on its weekly chart is likely the culprit. Internet stocks ($DJUSNS) have fallen 4.59%, but the pullback to 1100 was somewhat warranted after a huge run up. Gold mining ($DJUSPM) fell 14.02%, but in my opinion has been a lagging group for quite awhile and given the dollar's strength, we'll likely see more selling in this area. Renewable energy ($DWCREE) has been very weak and has lost 14.02%, but rising crude oil prices could help this group in 2017. There are technical signs of improvement.
---
But as I look at consumer staples, the distillers & vintners ($DJUSVN) appear to be ripe for a more significant correction as this chart has turned much more bearish. Take a look: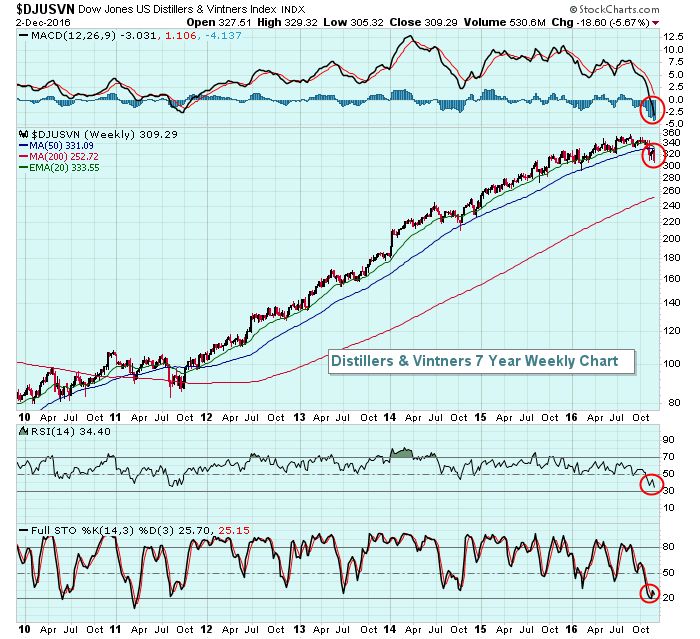 The weekly MACD is now below zero and pointing lower, which is a sign of strengthening selling momentum. The 50 week SMA has been lost for the first time since 2011 and both the RSI and stochastic have dipped to lows not seen since 2011. It appears to me that this is NOT an area of the market I want to be in right now. It needs to regain strength before I'd consider stocks in this group.
Happy trading!
Tom