On a week where GM and Ford had nice positive pushes, Tesla (TSLA) fell almost 8%. So how do we handle Tesla from here? It looks to me that Tesla is testing this major support area after breaking it back in January. How investors treat the stock is critical at this juncture. First of all, the SCTR is under 5. So 95% of the stocks are behaving better than TSLA. That's a problem. If support breaks here, this looks like a big potential drop. Secondly, we can see that TSLA's SCTR has been unable to stay in the top 25% for the last year. This poor performance is increasing as we see the SCTR being down around 10% for 3 full months now. With this weeks candle moving from one trend line down to the support line, any higher high would be a bullish breakout. Conversely, if next few weeks price action starts to drop below the horizontal support line, this might be a better short than a long.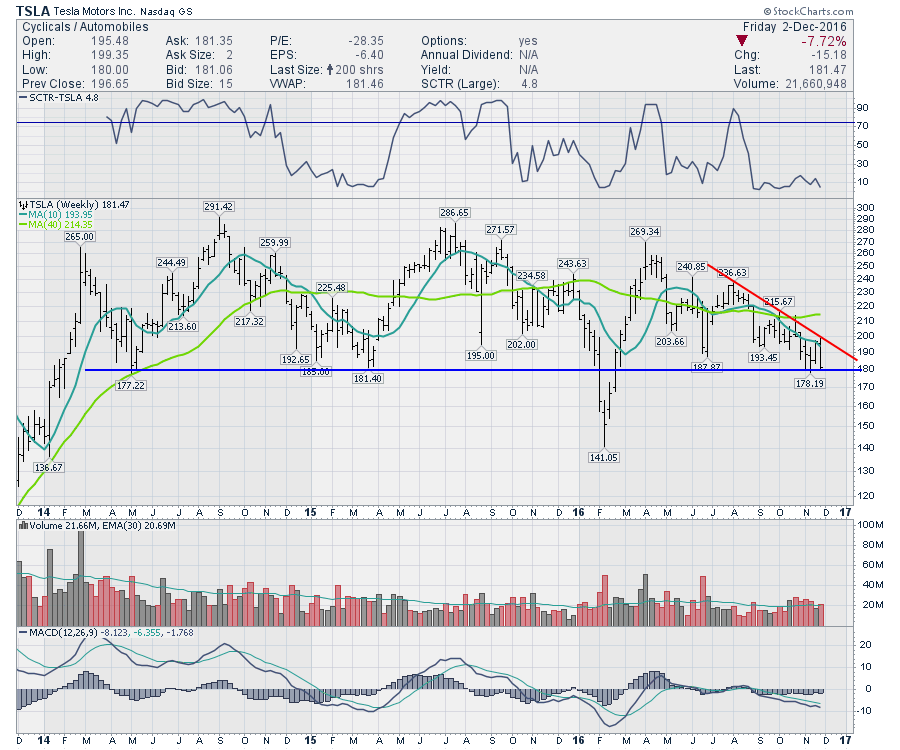 ---
Tesla is a media darling stock that gets all kinds of press. However, the problem for Tesla now is that 5 of the last 6 weeks have been on higher than average volume. If the stock starts to sell off aggressively, this could really break down. With a negative MACD and a consistent slope down, this will need some buyers to step in soon to change this trend.
If I had to decide, I would suggest lower is the more probably outcome. The Solar City merger that was just completed might actually be what pushes the stock down in the near term. Almost everyone who has bought this stock in the last three years is under water. If the SCTR can get an upward move towards 30, this might rejuvenate buyers. For existing shareholders, this is a good weekend to have a plan for either outcome. For that reason, it's the Friday edition of Don't ignore This Chart!
Good trading,
Greg Schnell, CMT, MFTA.