Waters Corp (WAT) was hit hard with a double-digit decline in October, but the stock ultimately firmed in November-December and turned up in 2017. Waters Corp is in the top 20% of S&P 500 stocks for year-to-date gain. The chart also looks rather promising. Even though the October decline was rather dramatic, notice that the stock found support in a logical area. First, resistance levels from June-2015 to April 2016 and support levels from April 2016 to June 2016 combined to mark a big support zone in the 130-138 area. Second, the decline retraced 50-61.8% of the prior advance, was over 40% (February 2016 to August 2016). Thus, it still looks like two steps forward and one step backward for this stocks (long-term uptrend). Most recently, the stock firmed for a couple of months and broke its first resistance level with a move above 142.5 the last two weeks.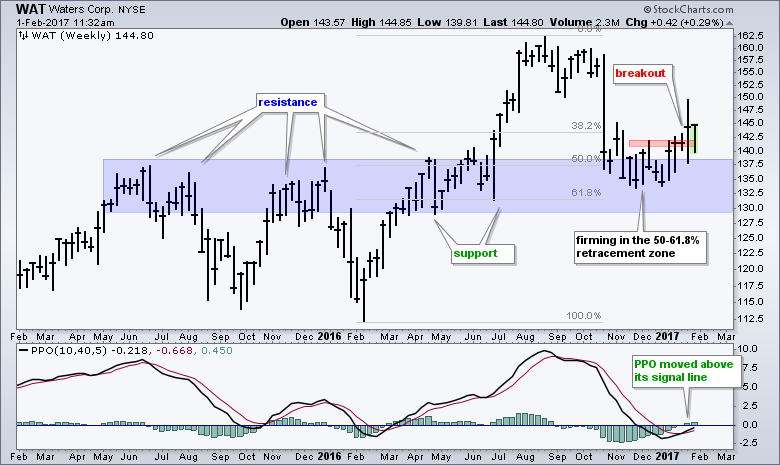 ---
The indicator window shows the PPO(10,40,5) turning up over the last few weeks and moving above its signal line. This PPO measures the percentage difference between the 10-week EMA and the 40-week EMA. It is just below zero and this means the 10-week EMA is still below the 40-week EMA. A move into positive territory would signal a bullish EMA cross. Momentum is clearly improving because the PPO turned up and moved above its 5-period EMA (the red signal line). This is affirmed by the PPO histogram, which turned positive.
Benzinga Pre-Market Prep
Note that I will be on the Pre-Market Prep with Joel Elconin (@Spus) and Dennis Dick (@TripleDTrader).
Tune in here on Friday morning at 8:30 AM EST.
****************************************
Thanks for tuning in and have a great day!
--Arthur Hill CMT
Plan your Trade and Trade your Plan
*****************************************