The Regional Bank ETF (KRE) is bouncing off the trend line today after testing below the trend line yesterday. This is a strategically important place on the charts for the regional banks. The breakdown in Relative Strength to new 4 month lows suggests this trade is losing support as investors look to other areas of the market for outperformance. However, the market has spent a week trying to base here as you can see in the zoom box after falling.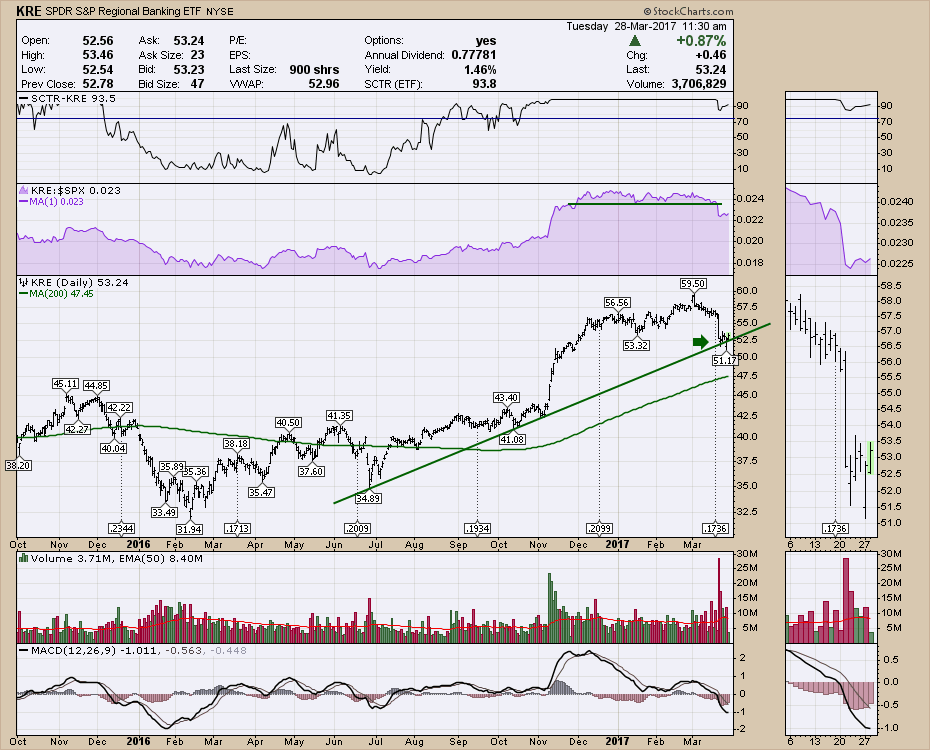 ---
The KRE looks like a strong swing trade here with a stop just under the trend line.
---
For the educational segment, if you are looking for strong volume breakouts the Predefined Scan table can point you to these big movers easily. The big blue arrow points to the link to Predefined Scans.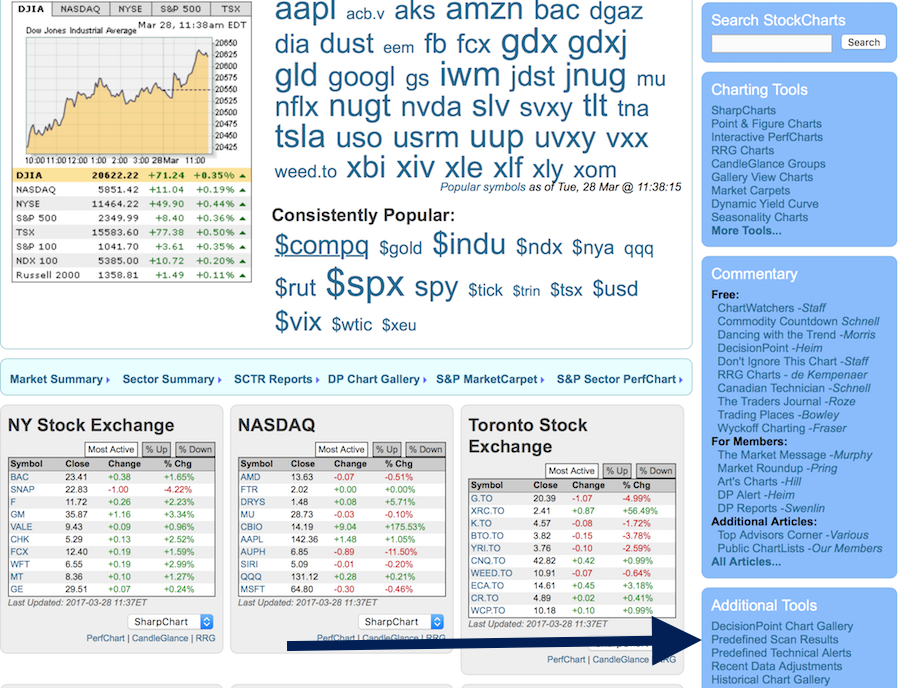 When you click on this link, you can select which market you want to look at. The Orange arrow points to the NYSE column. I have circled '4' from the NYSE from the Strong Volume Gainers Scan. There are multiple scans as you can see but lets focus on the Volume scan.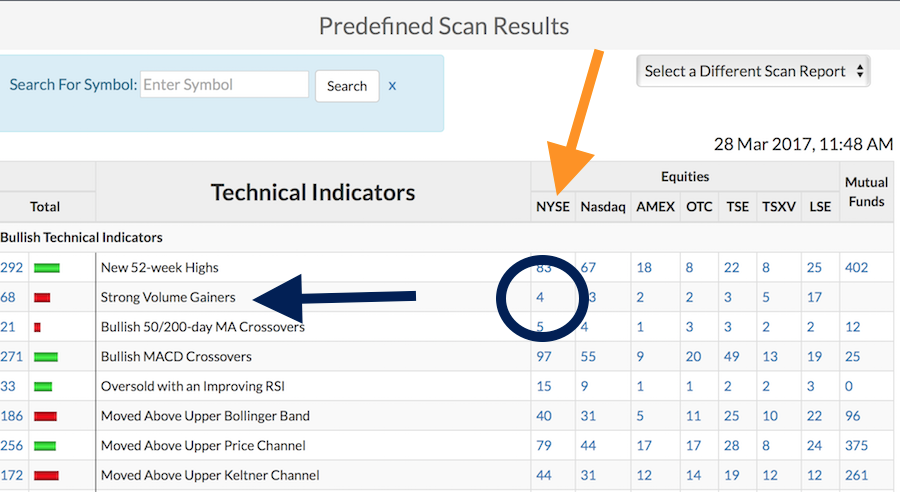 Clicking on the '4' links you to a page listing the ticker symbols that meet this criteria. Looking at the Strong Volume Gainers for the NYSE, we can see the four stocks meeting the criteria. Members have the ability to put these into a chartlist temporarily to look through them. Arthur Hill pointed out good price action in Darden (DRI) recently. Let's look at STORE Capital Corp.

Here is STORE Capital Corp (STOR). This is a very interesting chart today. The volume surge of 5 Million shares is at a critical point on the chart. The chart seems to be breaking the Relative Strength downtrend today shown in purple. It's a marginal break. The SCTR is still in terrible shape. The price trend line has tested 7 times but this volume surge, early in the day, is higher than anything seen since June of last year.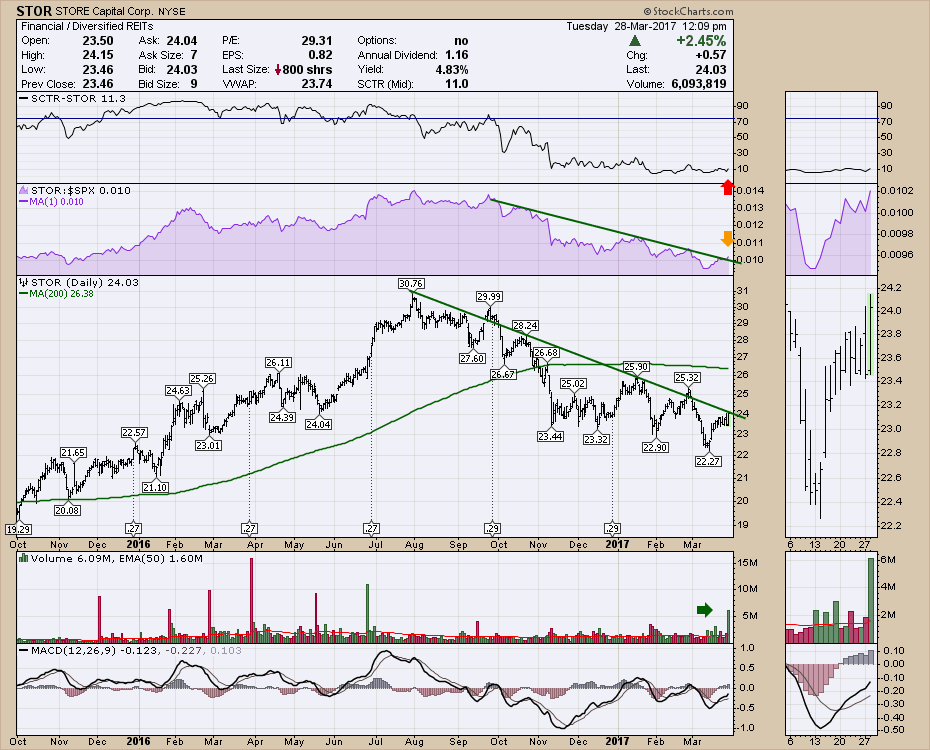 On a weekly chart it is even more interesting. The MACD looks ready to turn up. The price is trying to break through the 10 WMA. We can also see 4 weeks of above average positive volume this year. For dividend buyers, the yield is 4.83% due soon.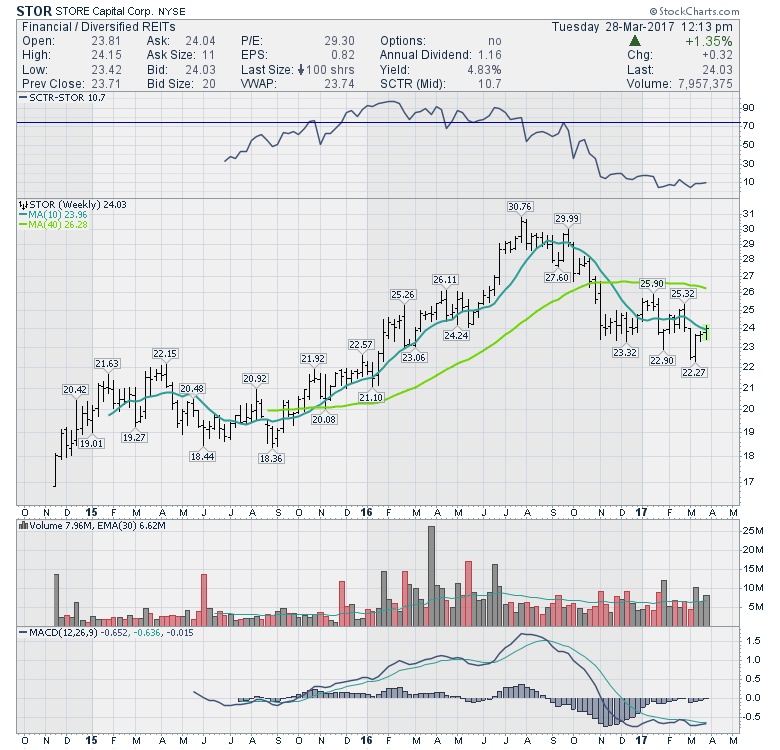 There are lots of good ideas percolating in the predefined scan page. Hopefully you find a few gems too!
Good trading,
Greg Schnell, CMT, MFTA.