Fresh off yet another stellar quarterly earnings report, Ferrari's (RACE) stock price has hit the accelerator once again. Its ascent truly has been remarkable as RACE has gone from 31 to 111 in 3.2 seconds. Okay, the stock price hasn't really moved that fast, but sometimes it seems like it. Instead, RACE has more than tripled in less than 18 months and that's impressive. Let's take a look under the hood:
---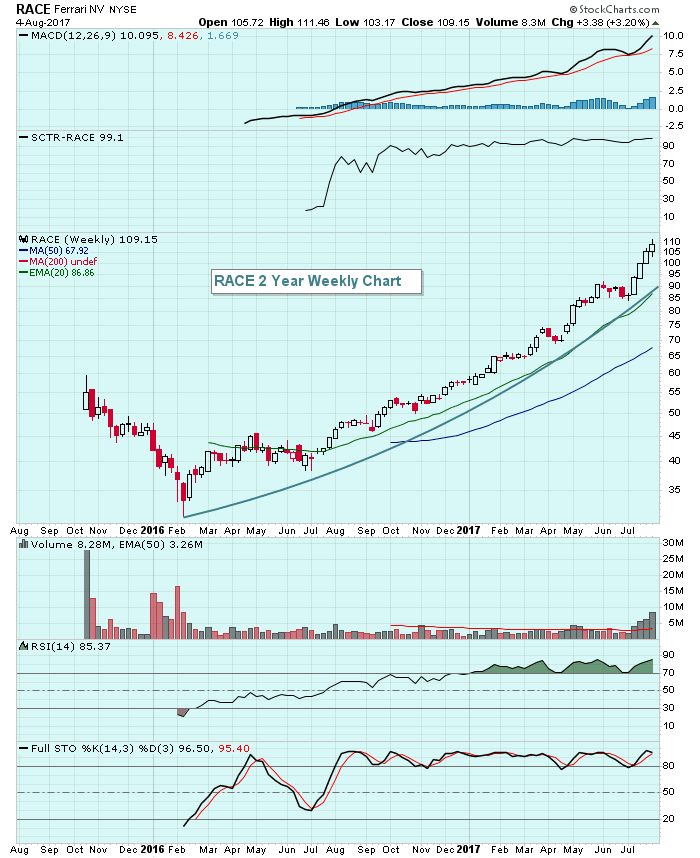 A couple things stand out to me. First, the weekly RSI has been overbought all of 2017 - highly unusual for any stock to remain overbought for so long. Clearly, RACE is under accumulation and remains in favor with the investment community. Second, we have not even seen a 10% pullback during this amazing advance. Finally, since clearing the 20 week EMA a year ago, there have been exactly ZERO tests of that rising moving average.
RACE's EPS in the last quarter jumped to $.79, well ahead of Wall Street's expectations of $.66. RACE has seen a series of better-than-expected quarterly results over the past year and that is why the stock has such lofty future expectations and also why its SCTR remains one of the best among U.S. equities.
My suggestion if you're on the sidelines? This RACE hasn't ended, but it's clear that the stock could use a pit stop to at least change its tires. Watch for that initial 20 week EMA test, which is imminent, to take a trading test drive.
Happy trading!
Tom