The Gold space is particularly interesting this week. It marks 1 year since gold miners GDX topped out in 2016. The GDX printed a high of $31.70 on August 12th, 2016. GLD was already making lower highs.
But the week brings a new chapter in GDX as well. The gold miners ETF (GDX) broke a significant downtrend with yesterdays close. There will be lots of eyes watching to see if it can hold the breakout into Friday's close for a weekly breakout.
While breaking a downtrend is not the same as breaking horizontal support and resistance, it is step 1 to changing the chart shape.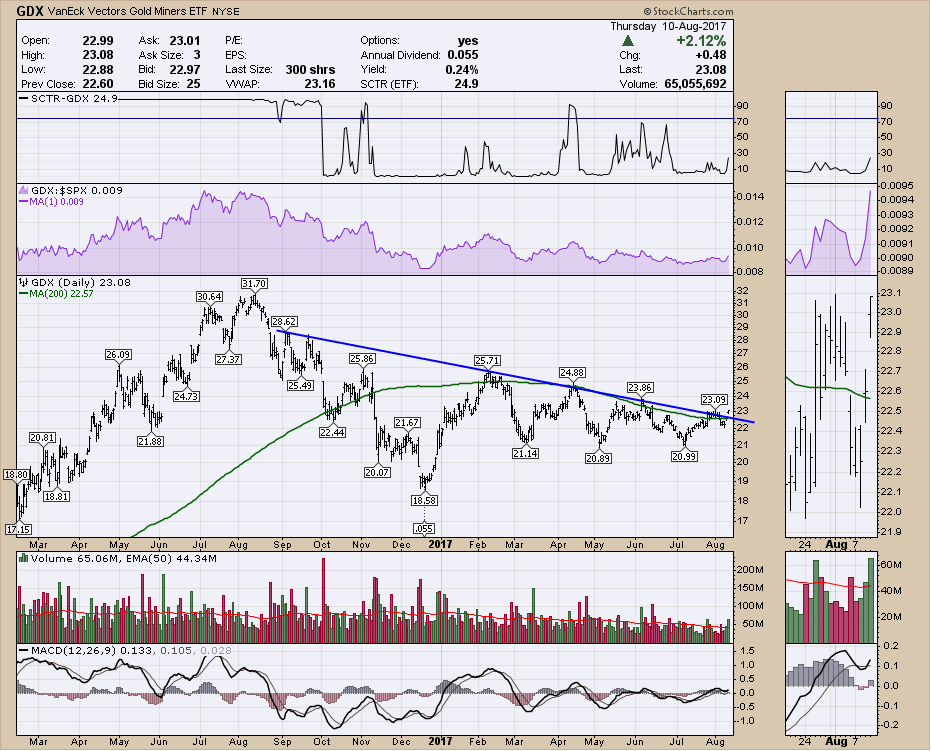 ---
If you have more interest in trading GLD or GDX, I would encourage you to watch the Commodities Countdown Recording 2017-08-10. Here is a link to the program.
Commodities Countdown Video With Greg Schnell 2017-08-10 from StockCharts.com on Vimeo.
With the break of the downtrend as a start for the gold miners, GDX should be one of the hottest topics out there for Commodity followers through the weekend.
For those of you reading this early Friday morning, catch the MarketWatchers Live show Friday at Noon EST. We also have set up so you can watch a recording of MarketWatchers Live any time before Monday on the same link! All of the MarketWatchers Live shows will now be recorded until the next show is aired.
Good trading,
Greg Schnell, CMT , MFTA