Chartists should watch Gilead (GILD), Amgen (AMGN) and Merck ($MRK) because all three are forming bullish continuation patterns. First and foremost, all three hit new highs in September so it is safe to assume that the long-term trends are up. AMGN and MRK have been trending higher the last 12 months, while GILD broke out in June to reverse its downtrend.
---
If we assume that the long-term trends are up, then we can also assume that the current pullbacks are corrections within this uptrend. One never knows how far a correction will extend, but three bullish continuation patterns are taking shape and these give chartists something to watch for continuation breakouts.
First, Gilead could be forming a triangle or pennant. Admittedly, I may be jumping the gun with the lower line because a trough near 80 has yet to form. However, I would be on guard for a bounce that would produce a trough and secure the bullish continuation pattern.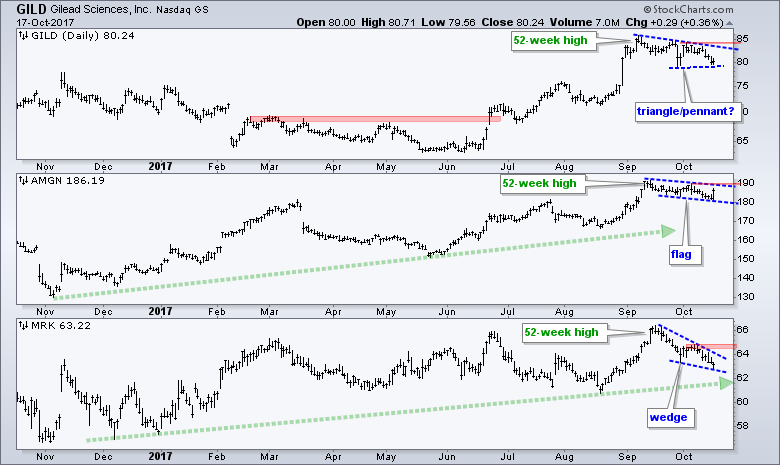 The middle window shows Amgen with a falling flag over the last five weeks. Notice that the stock surged on Tuesday and this is the first sign that a breakout could be in the offing. The lower window shows Merck with the deepest pullback of the three. A falling wedge is taking shape and a break above the early October highs would reverse the fall.
Note that we are in the middle of earnings seasons and all three report in the coming weeks. Amgen reports on October 26th, Gilead reports on November 7th and Merck delivers on October 27th.
Follow me on Twitter @arthurhill - Keep up with my 140 character commentaries.
****************************************
Thanks for tuning in and have a good day!
--Arthur Hill CMT
Plan your Trade and Trade your Plan
*****************************************