IBM has been a very interesting stock to watch, but not to own. After 23 consecutive quarters of declining revenues, traders finally found something to be excited about in IBM's latest quarterly earnings report. Five years ago, IBM traded near 165. At Friday's close, it was approaching 150. Big Blue has been an even bigger disappointment. In its earnings report on October 17th, however, IBM beat its revenue estimates by nearly a half billion dollars and its EPS edged out estimates by two pennies. That was enough to light a fire under its stock price as it jumped from 146.54 at the close prior to earnings to 157.12 the next morning. It proceeded to hit 162.51 before skidding backwards the past couple weeks. Here's the chart:
---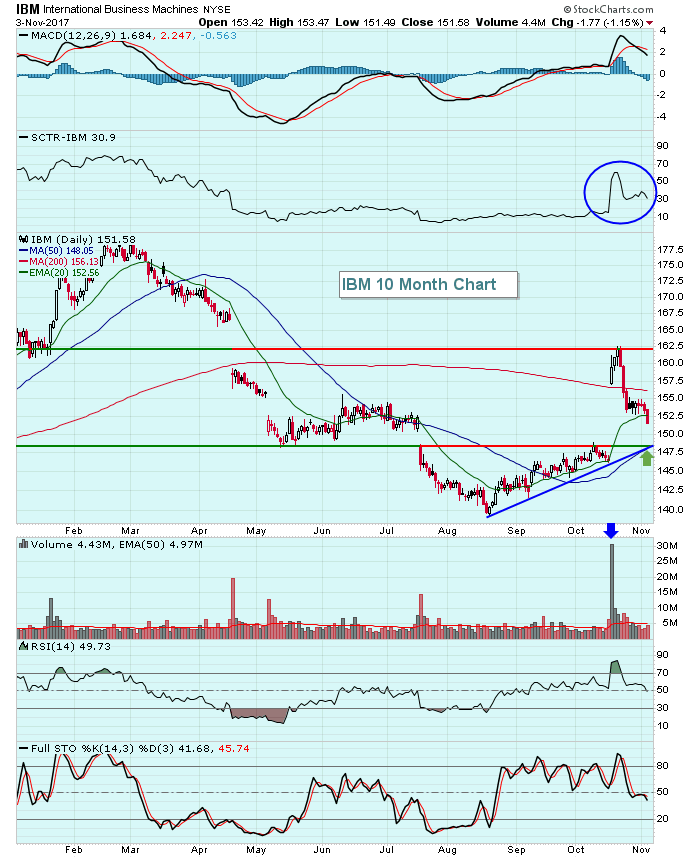 The 162.00-162.50 level is now critical overhead price resistance, while a number of key indicators converge close to 148 and represent support. 148 has been a key pivot area in 2017 and the rising trendline off the August low intersects close to that level as well. Throw in the 50 day SMA, currently at 148.05, and I think you get the picture.
But can IBM reverse course and begin to participate in, or even (ahem!) lead, this bull market late in 2017 and heading into 2018? Time will tell. But, at a very minimum, shareholders seem to have something to be excited about in the near-term - assuming the 148 support area holds.
Happy trading!
Tom