Norwegian Cruise Line (NCLH) broke out of a long consolidation and looks poised to hit new highs soon. The long-term trend is up as the stock surged to new highs with a 50+ percent advance from November 2016 to August 2017. Also note that the PPO(50,200,0) is positive, which means the 50-day EMA is above the 200-day EMA.
The stock moved into a trading range after the August high and formed a long triangle. This pattern represents a consolidation, or rest, within the bigger uptrend. After testing support in the 52-53 area from October to December, the stock broke out with an advance above 58 in January.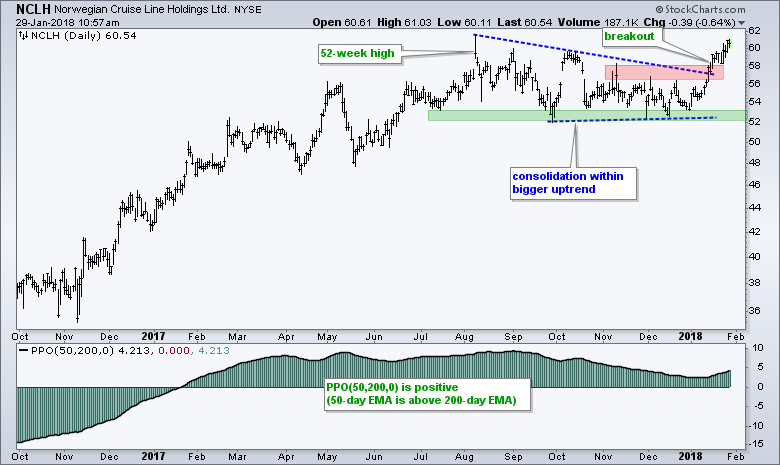 This breakout effectively ends the consolidation and signals a continuation of the bigger uptrend. The stock recorded a new closing high last week, but remains just shy the intraday high in August. With the uptrend resuming, I would expect the stock to exceed this high sooner rather than later.
---
Plan Your Trade and Trade Your Plan.
- Arthur Hill, CMT
Senior Technical Analyst, StockCharts.com
Book: Define the Trend and Trade the Trend
Twitter: Follow @ArthurHill
---