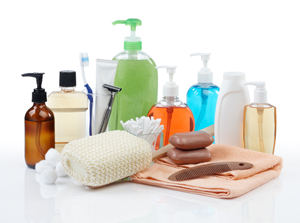 The Consumer Staples SPDR (XLP) is one of the worst performing sectors year-to-date with a loss greater than 8 percent. The sector is also the second weakest in February because it failed to hold its bounce over the last two weeks.
The chart shows XLP with its biggest component (P&G) and its 10th largest component (CL). Procter & Gamble and Colgate are clearly in related businesses and these two are weighing on the 6th largest sector in the S&P 500. XLP accounts for 7.55% of the index.
XLP broke below its 200-day SMA with the plunge in early February and then stalled the rest of the month. This stall looks like a consolidation within a downtrend and this makes it a bearish continuation pattern. A break below last week's low would signal a continuation lower.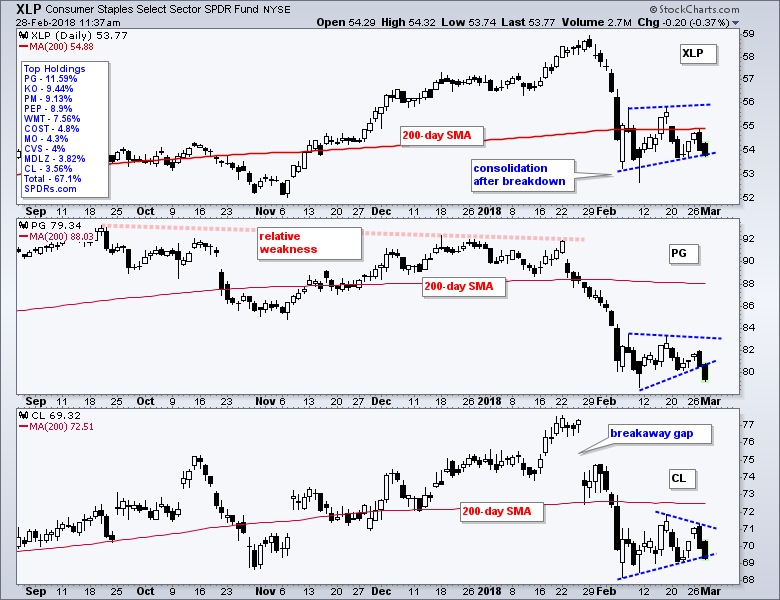 The middle window shows PG forming a lower high in December-January and already underperforming XLP, which formed a higher high during this timeframe. PG broke its 200-day SMA in late January and hit a 52-week low in early February. The stock stalled with a triangle into late February and broke the triangle line today.
The lower window shows CL with a breakaway gap in late January and a break below the 200-day SMA in early February. The stock also consolidated with a triangle and is testing the lower line with a two-day decline.
---
Plan Your Trade and Trade Your Plan.
- Arthur Hill, CMT
Senior Technical Analyst, StockCharts.com
Book: Define the Trend and Trade the Trend
Twitter: Follow @ArthurHill
---