Shake Shack (SHAK) has been an interesting story. The stock IPO'd as a parabolic stock, then fell out of the sky. That's kind of how parabolic stocks go. But in 2017, Shake Shack started to show up on the radar again. Shake Shack Starts Shaking. Reviewing the chart you'll see why. The breakout from a two-year base was beautiful.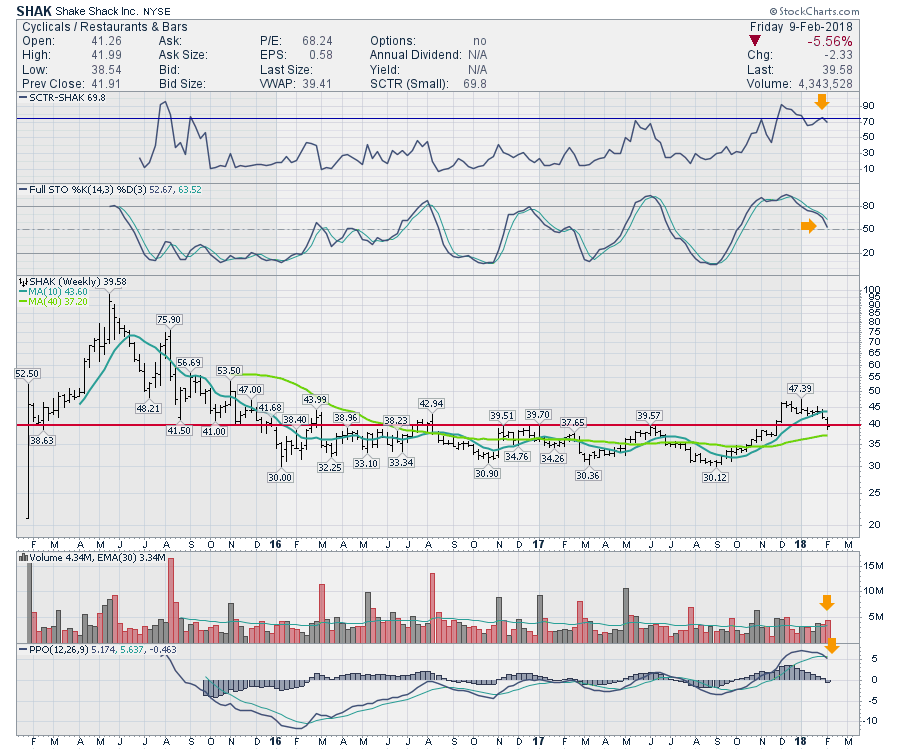 ---
The real question is now. What to do now? There are lots of warnings on this chart. The PPO has rolled over, price is at support, the Full Stochastics are at 50, and the SCTR is making a lower high near 75.
We have seen this movie before. A breakout, a pullback to support or lower, and then a turn higher. On this stock, we wait and watch for the turn. A great example is MSFT. Different industry, but we are watching for the concept of support and resistance. When it turns up, this should have some thrust behind it. As it pulls back around this support level or lower, we can watch indicators like the CMF, OBV, Full Sto's etc. for improvement.
Many great stocks are found when a market pulls back and gives you a chance to buy them on a meaningful low. Setups like this are great to watch and see if it can get into that big bull run.
---
Here is a link to the video about the new StockCharts for Dummies book! It is now available!
As well, I will be hosting a Market Outlook live webinar at 11 ET. Click on the webinars tab and select the event on the right! Or click here! You can also click this link in the future to go to the recording. Greg will be discussing scanning for pullbacks.
Good trading,
Greg Schnell, CMT, MFTA