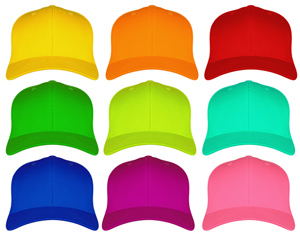 The S&P 500 SPDR (SPY) is pretty much unchanged over the last five trading days and the respective sector SPDRs are mixed. The story is a bit different for small-caps because the S&P SmallCap iShares (IJR) is up over 3% the last five days and the small-caps sectors are suddenly leading.
The table below is a screenshot from a summary page of a ChartList that has all eighteen sectors. These include the ten sector SPDRs, the nine equal-weight sectors and the nine small-cap sectors. I will include a symbol list at the bottom of this article. The table is sorted by the five-day Rate-of-Change as of Wednesday at 10:30AM ET.
I am only showing the top twelve performers and nine of these are small-caps sectors. The SmallCap Consumer Staples ETF (PSCC), SmallCap HealthCare ETF (PSCH) and SmallCap Energy ETF (PSCE) are leading with the biggest gains. Outside of small-caps, we are also seeing strength coming from the EW Energy ETF (RYE), EW Technology ETF (RYT) and EW Finance ETF (RYF) over the last five days (green arrows).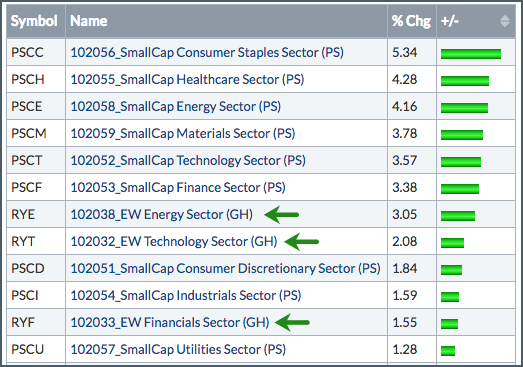 Recent strength in the small-cap sectors is still a short-term issue. Be sure to check out the individual charts and longer timeframes for a complete picture.
Sector SPDRS: SPY, XLK, XLF, XLV, XLY, XLI, XLP, XLE, XLU, XLB, XLRE
EW Sectors: RSP, RCD,RYF,RYT,RGI,RTM,RYE,RYH,RHS,RYU
Small-Cap Sectors: IJR, PSCD,PSCF,PSCT,PSCI,PSCM,PSCE,PSCH,PSCC,PSCU
---
Plan Your Trade and Trade Your Plan.
- Arthur Hill, CMT
Senior Technical Analyst, StockCharts.com
Book: Define the Trend and Trade the Trend
Twitter: Follow @ArthurHill
---