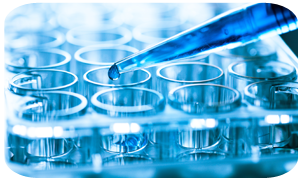 Waters Corp led the market in 2017 with a 65 percent gain, but lagged in 2018 as the stock corrected the last six months. I am watching this correction pattern for a breakout that would signal a continuation of the bigger uptrend. Waters Corp makes analytical equipment and software for laboratories and scientists.
How long and how far should a correction extend? When does a correction turn into a something more, such as a bigger downtrend? Those are, of course, the million-dollar questions when analyzing a chart. A lot depends on your timeframe so keep in mind that this is a weekly chart covering two years, which I would consider a long-term timeframe. Ideally, a correction should retrace 1/3 to 2/3 of the prior advance and key moving average crosses should hold. In Fibonacci terms, a correction should retrace 38.2 to 61.8 percent.
The chart below shows WAT retracing around 38.2% of the prior advance with a falling wedge over the last six months. This is still a normal amount for a correction within a bigger uptrend and the 10-week EMA remains above the 40-week EMA (barely).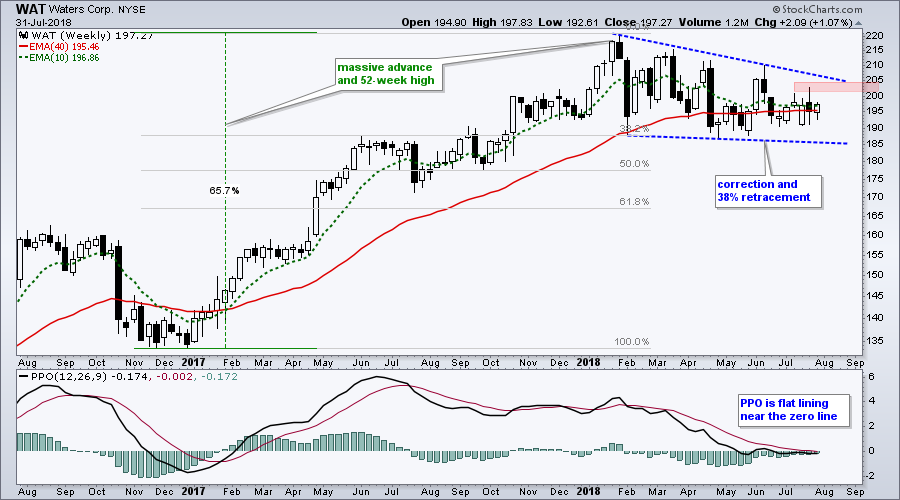 The stock is finding support in the 190-195 area and the range narrowed over the last six weeks. As with a Bollinger Band squeeze, this narrowing range signals indecision that could foreshadow a decisive move. But which way? Here are two things to watch. A weekly close above 205 would break the six week range and argue for further strength. Chartists can also watch the PPO for an upturn and move back into positive territory.
---
On Trend on Youtube
Available to everyone On Trend with Arthur Hill airs Tuesdays at 10:30AM ET on StockCharts TV and repeats throughout the week at the same time. Each show is then archived on our Youtube channel.
Topics for Tuesday, July 30th:
Customizing CandleGlance Lists.
Revisiting XLF and the Big Banks.
XLV and Big Pharma Lead.
Performance Disparities within SOXX..
Stocks to Watch: ALL, AGN, DG, KSS, WMT.
---
Plan Your Trade and Trade Your Plan.
- Arthur Hill, CMT
Senior Technical Analyst, StockCharts.com
Book: Define the Trend and Trade the Trend
Twitter: Follow @ArthurHill
---