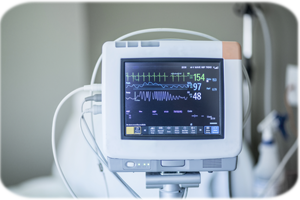 The Health Care SPDR (XLV) is the best performing sector over the last six months with a 21% gain and the Medical Devices ETF (IHI) is one of the top performing industry group ETFs with a 25% gain. There are dozens of healthcare stocks hitting new highs and showing big gains, but there are also a few stragglers that may play catchup.
Hologic (HOLX) is part of the medical devices group and in the "medtech" industry. The stock is up around 11% over the last six months, but lagging the sector and its industry group. This may change because I am seeing some bullish signs on the chart.
First, the stock fell sharply in August with a gap down and high volume. This plunge did not break the stock as it firmed above the spring lows and near the 61.8% retracement. Firming turned into buying pressure as the stock broke above the early September high and filled the gap with good volume. A flag formed after this surge and this is a bullish continuation pattern. A flag breakout would signal a continuation higher.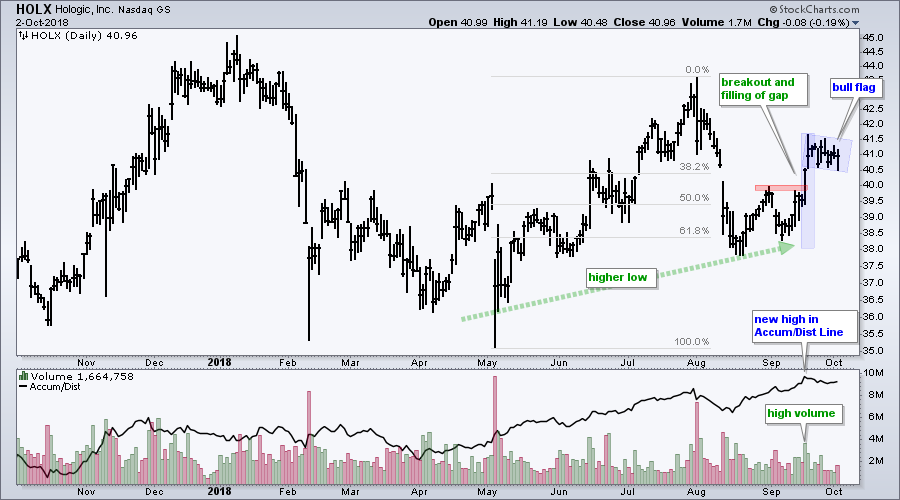 The indicator window shows volume and the Accumulation Distribution Line (ACDL). There are three big red volume spikes this year as the stock fell on high volume. Volume in between these spikes is more mixed, but there is clearly more buying pressure than selling pressure since April. Notice that the Accumulation Distribution Line moved steadily higher the last six months and hit a new high in mid September. This shows accumulation and this supports the price breakout.
---
On Trend on Youtube
Available to everyone, On Trend with Arthur Hill airs Tuesdays at 10:30AM ET on StockCharts TV and repeats throughout the week at the same time. Each show is then archived on our Youtube channel.
Topics for Tuesday, October 2nd:
Keeping Perspective (SPY, QQQ, MDY, IJR)
Higher Yields and Rising Energy Prices (plus UUP)
Market Drags (XLF, XLC, IAI, ITB, KRE)
Focus on Energy-Related ETFs (XLE, XES, XOP, FRAK)
#AskArthur: ETFs vs Indexes, ChartLists, Funnymentals
Stocks to Watch: NOV, OKE, ORCL, OXY, PSX VZ
---
Plan Your Trade and Trade Your Plan.
- Arthur Hill, CMT
Senior Technical Analyst, StockCharts.com
Book: Define the Trend and Trade the Trend
Twitter: Follow @ArthurHill
---