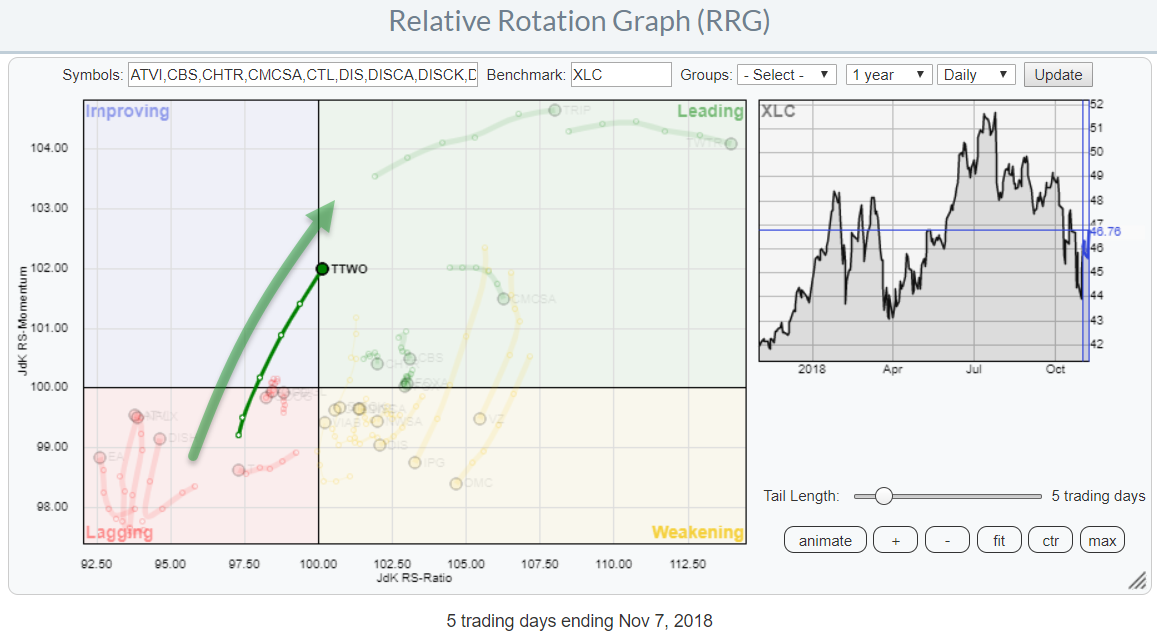 While browsing through some Relative Rotation Graphs, looking for DITC candidates, my eye fell on TTWO inside the Communications Services sector.
XLC itself is inside the weakening quadrant vs SPY but very close to the benchmark, meaning that the performance of the sector is very close to that of SPY.
TTWO against XLC, on the other hand, is showing a nice rotation (on the daily RRG) over the last two weeks, from lagging through improving and now entering leading at a steep RRG-Heading and increasing tail length. This signals power behind the rotation.
---
---
Taking this stock back to a regular chart shows a series of lower highs and lower lows against a falling resistance line since the beginning of October. The last drop that took place at the end of October plotted a double bottom against the horizontal support level around $110 which signals at least some relief and buyers coming in at this level.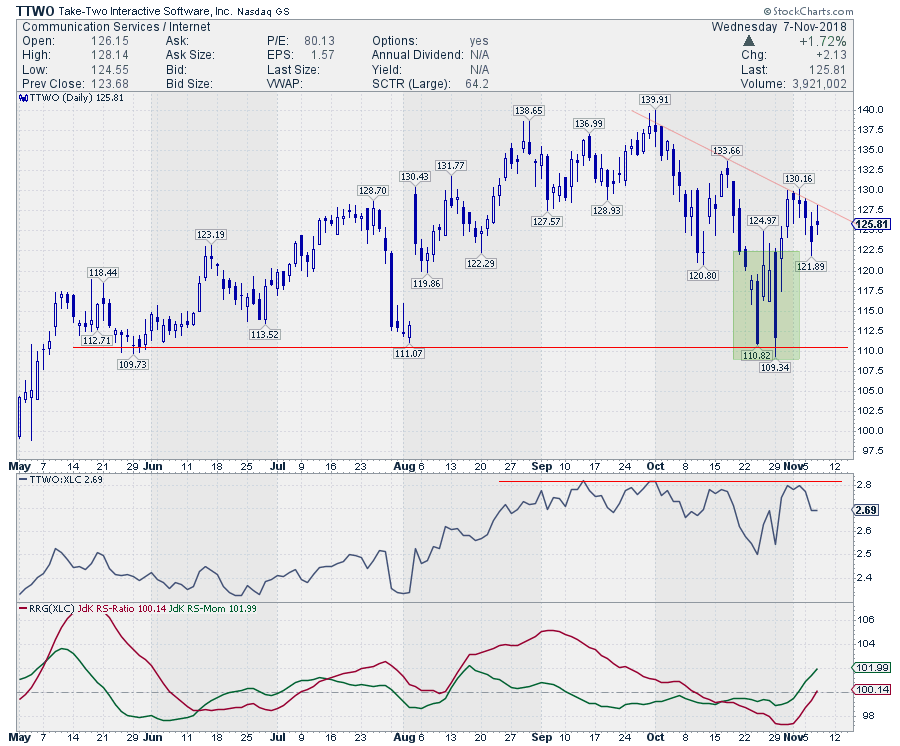 After completing the double bottom another, lower, high was set against the falling resistance line but the throwback did find support at the top of the double bottom and a potential first higher low.
It takes two, both relative and price, to tango for TTWO
Looking at the speed of the rotation on the RRG and assuming that this rotation can continue, the relative strength of TTWO against XLC will very likely break overhead resistance in the RS-Line very soon.
Breaking above the falling resistance line will be a first sign of, further improvement. Taking out the previous high at $130 will be the trigger for a new series of higher highs and higher lows.
The recent low near $122 serves as the cut-off point where the positive scenario will be negated.
---
My regular blog is the RRG blog If you would like to receive a notification when a new article is published there, simply "Subscribe" with your email address using the form below.
Julius de Kempenaer | RRG Research
RRG, Relative Rotation Graphs, JdK RS-Ratio, and JdK RS-Momentum are registered TradeMarks ®; of RRG Research
Follow RRG Research on social media:
Feedback, comments or questions are welcome at Juliusdk@stockcharts.com. I cannot promise to respond to each and every message but I will certainly read them and where reasonably possible use the feedback and comments or answer questions.
If you want to discuss RRG with me on SCAN, please use my handle Julius_RRG so that I will get a notification.