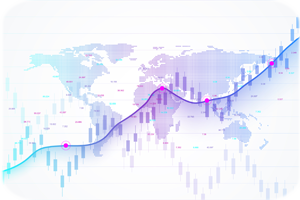 The S&P 500 is below its 200-day moving average and most country indexes are also below their 200-day moving averages. Two emerging countries, however, stand out in this crowd: Indonesia and the Philippines.
The first chart shows the Indonesia iShares (EIDO) and the DJ Indonesia Index ($IDDOW) with their 200-day SMAs. The index (lower window) found support in the 1225-1250 area from July to October and broke above its summer highs with a surge in November-December. This is one of the few country indexes trading above its summer highs and above its 200-day SMA. The upper window shows the Indonesia iShares for reference. Keep in mind that there is a currency effect when trading international ETFs priced in US Dollar.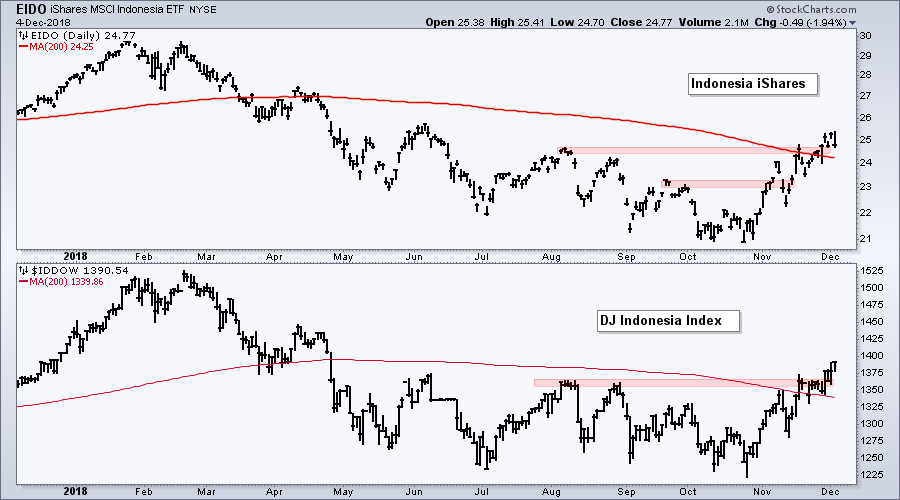 The next chart shows the Philippines iShares (EPHE) in the top window and the DJ Philippines Index ($PHDOW) in the lower window. The index surged above its 200-day SMA on Tuesday, but remains below its summer highs. Thus, the DJ Philippines Index is not as strong as the DJ Indonesia Index.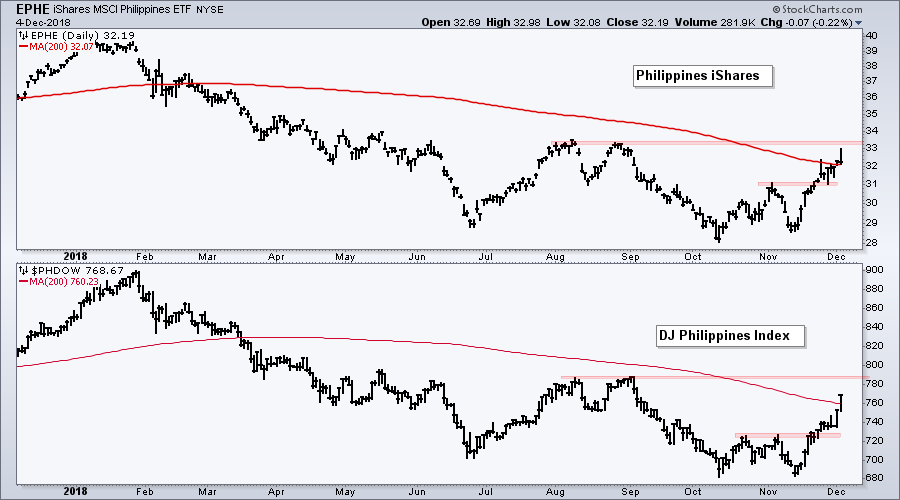 ---
On Trend on Youtube
Available to everyone, On Trend with Arthur Hill airs Tuesdays at 10:30AM ET on StockCharts TV and repeats throughout the week at the same time. Each show is then archived on our Youtube channel.
Topics for Tuesday, December 4th:
Measuring Internal Strength on Big Bounces.
Mind the Gaps and Resistance (SPY,QQQ,MDY,IJR).
Abnormal Happenings in the Bond Market (plus XLU).
Finance-related Groups Lagging (plus 8 stocks).
FAANG Versus Non-FAANG.
SMA vs EMA and Stocks to Watch.
---
Plan Your Trade and Trade Your Plan.
- Arthur Hill, CMT
Senior Technical Analyst, StockCharts.com
Book: Define the Trend and Trade the Trend
Twitter: Follow @ArthurHill
---