Visa is showing up, just, inside the leading quadrant on the Relative Rotation Graph vs $INDU above. These images are zoomed in from the RRG holding all the 30 DJ Industrials stocks (benchmark $INDU).
The tail in the chart on the left above shows 30 weeks of rotation and as you can see the week-to-week observations are all close together (the white dots on the tail) causing a relatively short tail compared with other stocks on the plot.
---
Short distances on the tail indicate low strength(momentum) and as the rotation was pointing downward and in(to) the weakening quadrant that was a good sign (less negative).
Over the past weeks, V has started to curl back up again, without crossing over into the lagging quadrant, and is now crossing back into leading. This makes it one of the stocks in this universe that is worthwhile keeping an eye on.
Especially as Visa also on the daily version of the RRG (chart on the right above) just rotated back into leading after a short stint through weakening and then back into leading.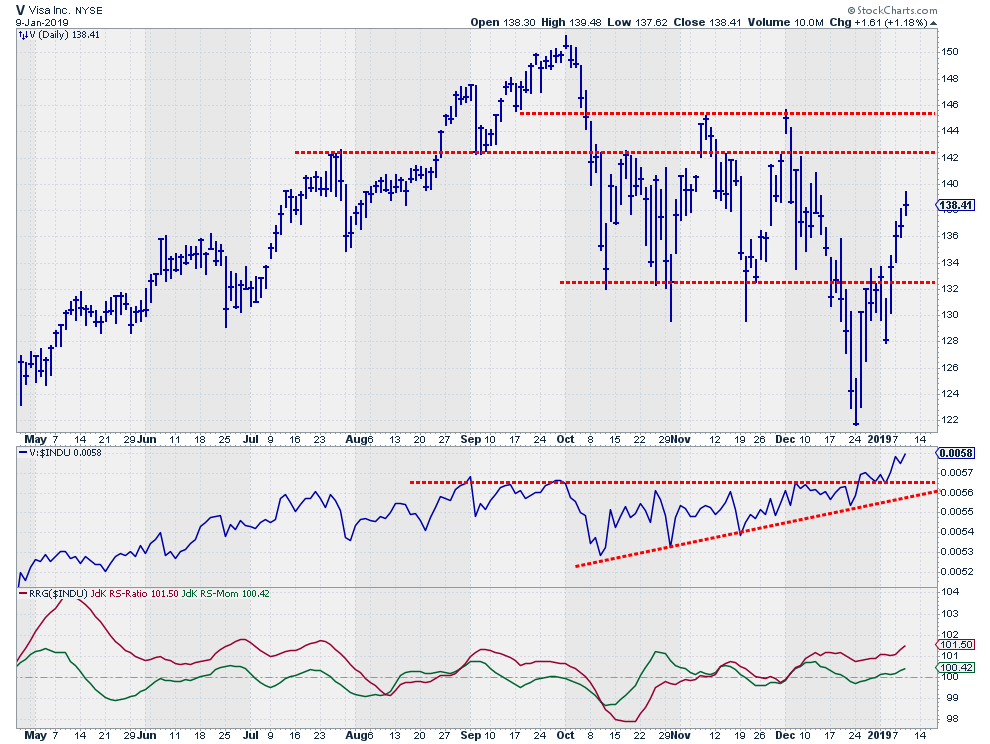 Looking at the price chart of Visa in combination with relative strength and RRG-Lines against $INDU we see a triangle like formation in the relative strength line which just broke away to the upside. This means new highs for Visa against $INDU.
The JdK RS-Momentum line crossed back above 100 recently and is now supporting a further relative uptrend as indicated by the JdK RS-Ratio above 100.
The price chart shows a reversal back into the sideways range between $132-$142/45 basically negating the downward break and putting support back around $132.
Not a ton of potential in price (yet) but very strong on a relative basis.
---
My regular blog is the RRG blog If you would like to receive a notification when a new article is published there, simply "Subscribe" with your email address using the form below.
Julius de Kempenaer | RRG Research
RRG, Relative Rotation Graphs, JdK RS-Ratio, and JdK RS-Momentum are registered TradeMarks ®; of RRG Research
Follow RRG Research on social media:
Feedback, comments or questions are welcome at Juliusdk@stockcharts.com. I cannot promise to respond to each and every message but I will certainly read them and where reasonably possible use the feedback and comments or answer questions.
If you want to discuss RRG with me on SCAN, please use my handle Julius_RRG so that I will get a notification.